NEWS
Lindsay Lohan Finally Makes It to Court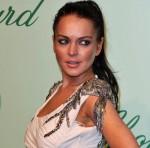 Amid a swarm of reporters and cameras, Lindsay Lohan, dressed in a conservative black suit jacket and white shirt, made her way into the L.A. courthouse this morning, a few minutes late, to face Judge Marsha Revel on her DUI probation violation and to learn the terms of her bail.
Lindsay missed a crucial court appearance last week after her passport was allegedly stolen in Cannes, France, where she spent the week partying.
Article continues below advertisement
OK! VIDEO: LINDSAY LOHAN CLEARS HER NAME BEFORE COURT HEARING
At last week's hearing, Judge Revel set her bail at $100,000 and ordered that she was in violation of her probation, and would be outfitted with a SCRAM alcohol detection bracelet immediately upon her return to the U.S. It remains to be seen what kind of terms Judge Revel — who seems none too pleased with the star — will set for Lilo.
She finally made her way home from Cannes on Saturday.