NEWS
Lindsay Lohan is a "Genius"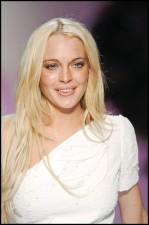 Lindsay Lohan's mom Dina Lohan has defended her daughter's widely panned first collection for Emanuel Ungaro, telling reporters at the NYC launch of her own shoe line on Oct. 9, "She's just a little girl and God gave her this gift. She's just trying to create. She did great in Paris, don't believe what you read. She's genius at fashion."
In the wake of Michael Lohan's calls for a family intervention to wean his daughter of her alleged dependence on prescription drugs and Ali Lohan's trashing by Frances Bean Cobain, Dina told Access Hollywoood, "They're little girls — please keep their personal lives personal."
Article continues below advertisement
And she continued on the same vein to the New York Post's Page Six column, "I don't go — like my ex — on national television and make things up. He's estranged from Lindsay; he doesn't know what's going on in her life. Michael doesn't talk to her."
But back to shoes. Lindsay, 23, will weigh-in on her momager's shoe line — not, as rumored, called Shoe-han — launched with LoveMyShoes.com, "We are not going to announce the name so every Google and MySpace buys the domain name," says the 47-year-old.
"Lindsay is signed to Ungaro, but she will definitely have input because she is so talented."