NEWS
Lindsay Lohan & George Lopez End Feud With a "Hug" at Kim Kardashian's Wedding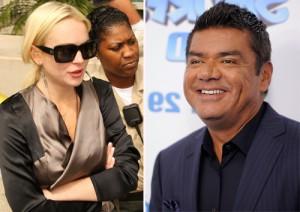 Nothing like a wedding to make people feel all warm and fuzzy inside. Lindsay Lohan and George Lopez seemed to have ended their feud this weekend at Kim Kardashian and Kris Humphries' nuptials.
"@georgelopez it was lovely seeing you last night and i'm glad we got to "hug it out!" xx" Lindsay Tweeted yesterday.
George obliged the 25-year-old actress, writing back, "Me too xxo."
Article continues below advertisement
So when did the bad blood between the two begin?
In March 2010, after George joked on his talk show about a paparazzi image of Lindsay with white powder pumping out of her shoes.
"It's not what you think. She kicked over a bottle of Tough Actin' Tinactin while allegedly snorting cocaine. Allegedly!" George said in a talk show monologue last year, via Radar Online.
Then LiLo went on a twitter rant against the comic.
She Tweeted, "Thanks for the childish comment regarding baby powder in my shoes. Don't you have kids? Wouldn't wanna hear that about them, or would you?" she wrote, adding, "Act like a grown man, have some respect and dignity for yourself."
Lindsay attended the Kardashian affair with mom Dina Lohan and sister Ali Lohan. Lindsay also attended Kim's bridal shower a few weeks ago.
For the black-tie affair, Lindsay wore a low-cut white dress with crystals and a dramatic up 'do.
See picture HERE!