NEWS
Lindsay Lohan: "I Know That I'm a Damn Good Actress"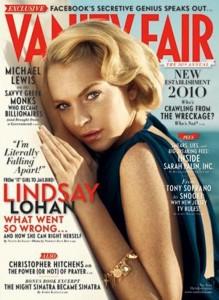 Lindsay Lohan is fully focused on getting her career back on track. In a candid interview with Vanity Fair, conducted prior to the 24-year-old actress's time in the slammer, Lindsay — who epitomizes the look of old Hollywood glamor on the mag's cover — says she will do whatever she needs to to get back on top.
"I want my career back. I want the respect that I had when I was doing great movies," Lindsay tells Vanity Fair in the October Issue, via PopEater. "And if that takes not going out to a club at night, then so be it. It's not fun anyway."
Article continues below advertisement
"I don't care what anyone says. I know that I'm a damn good actress. And I know that in my past I was young and irresponsible — but that's what growing up is. You learn from your mistakes," the actress added.
Lindsay also defends herself against reports that she is an alcoholic.
"If I were the alcoholic everyone says I am, then putting a SCRAM bracelet on would have ended me up in detox, in the emergency room, because I would have had to come down from all the things that people say I'm taking and my father says I'm taking — so that says something, because I was fine," she explains.
The actress also debunks all those drug rumors that surround her in the media.
Article continues below advertisement
"I've never abused prescription drugs. I never have — never in my life. I have no desire to. That's not who I am. I've admitted to the things that I've done — to, you know, dabbling in certain things and trying things 'cause I was young and curious and thought it was like, OK, 'cause other people were doing it and other people put it in front of me. And I see what happened in my life because of it."
And don't expect Lindsay to be reconciling with her father anytime soon, now that her incarceration is over.
"I think my biggest focus for myself is learning how to continue to get through the trauma that my father has caused in my life," she tells the mag.
Read the full article at Vanity Fair.