NEWS
Lindsay Lohan Keeps Busy In L.A.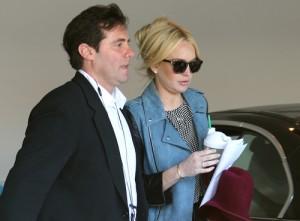 While a normal person who has just been bailed out of jail and postponed a 120-day jail sentence might sit at home and stay quiet, thanking their lucky stars, celebrities like Lindsay Lohan more often than not go into super-publicity mode, making appearances anywhere they can chat about the troubles of being a famous person who makes questionable life choices and still ends up not really getting in trouble for it. And so yesterday, Lilo headed to NBC studios in Burbank, Calif. to visit Jay Leno.
Article continues below advertisement
OK! NEWS: LINDSAY LOHAN CHATS WITH JAY LENO; GETS STANDING OVATION
While Lindsay awaits yet another hearing to decide her fate, after allegedly lifting a necklace from an L.A. jewelry store, she'll have to do 480 hours of community service at the L.A. Morgue.
OK! NEWS: LINDSAY LOHAN FEELS PUNISHED BECAUSE SHE'S A CELEB
Yesterday she chatted it up at The Tonight Show With Jay Leno, and although the episode won't air until tonight, it's reported that the received a standing ovation. Because clearly, when you do something bad or are in legal trouble, that is the kind of encouragement you need, as a celebrity, to prevent you from continually messing up.
MORE ON:
OK Galleries & Photos