NEWS
Lindsay Lohan Lashes Out at "Ex-Father" on Twitter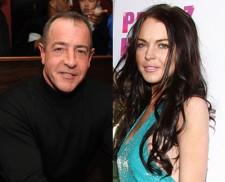 Lindsay Lohan has once again turned to her Twitter to release some aggression. The starlet lashed out at her father, Michael Lohan, for the press conference he held on Tuesday regarding Lindsay's well-being.
"Someone, which i've mentioned in the past, fell back into the person they used to be when they'd verbally&psychically abused&hurt me," Lindsay Tweeted – a post she has since deleted — via Access Hollywood.
Article continues below advertisement
OK! NEWS: LINDSAY LOHAN APPEARS IN AMERICAN IDOL AUDIENCE
"it reminded me of when my father would verbally/literally HURT my mother, brothers, sister Aliana…now, as scary for me-->mind, body&sould- it's been, why, i ask u? why me? i've worked so hard, and still work so hard in life-i try to do as," Lindsay continued in her confusing, incoherent Tweet.
"fmuch as i can to put my fathers lack of appreciation-towards his family, friends, co-workers, dhioner towards himself , his denituy" she added.
The above Tweets were followed by a link to her music video for "Confessions of a Broken Heart (Daughter to Father)" proclaiming, "that was for my ex-father".
Later in today, Lindsay Tweeted that Michael contacted her regarding the early morning Tweets (which have since been deleted).
Article continues below advertisement
Michael's most recent desperate attempt to get his daughter to check into a private rehab facility was on Tuesday at a formal press conference in Westbury, N.Y.
He claimed that Lindsay had texted him last week after she fell into a cactus plan in the Hollywood Hills.
"She texted me last week when she fell into the cactus, 'Daddy, I need more security.' "
Michael said he has made arrangements to send Lindsay to a private rehab facility in Long Island, N.Y., and has been in contact with her lawyer as well as his.
He also urged Dina to unite with him on this effort, but the mother of four insists everything is fine with Lindsay.
"It's about time for the people around Lindsay that think she is okay and are out with her at night to stop enabling her," Michael demanded. "I'm putting the people around her on notice… if something happens to her, I'm holding you accountable."
It is clear through her Tweets that Lindsay will not be succumbing to her father's demands.
LiLo has been doing a lot of ranting on Twitter, attacking comedian George Lopez earlier in the week for joking about white powder spotted on her shoes over the weekend.