NEWS
Lindsay Lohan as Linda Lovelace — More Pics Revealed!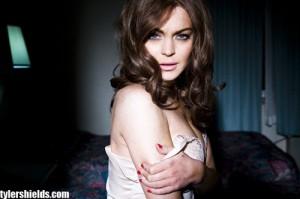 With Lindsay Lohan's release from jail, there seem to be more and more photos, taken before her stint in the slammer, being released of the 24-year-old starlet. First it was her Maxim cover, and now it's shots of her as porn star Linda Lovelace, from the upcoming biopic Inferno.
Inferno has been forced to halt production while the actress gets her life back on track and her legal affairs in order.
Article continues below advertisement
LiLo portrays porno queen Linda Lovelace, who starred in 1972's infamous adult film Deep Throat.
The newest shots were released by photographer (and close pal of LiLo) Tyler Shields on his website.
"Ever since the posters came out, people have been asking to see other photos from this shoot and the day is finally here," Shields wrote. "What can I say about this shoot other then it was amazing and a lot of fun! Lindsay and I have some crazy things coming down the road and I can't wait for you to see them!"