NEWS
Lindsay Lohan the Model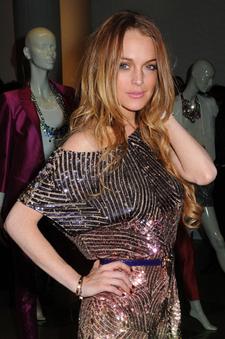 For a girl who hasn't been in a hit movie in quite some time, Lindsay Lohan seems to be just fine appearing on magazine covers, including Nylon's April issue.
"I love doing photo shoots," she tells the mag. "I mean, if I could just sign with IMG and do ad campaigns and model more, I'd do that… because that's fun for me. That's not work."
Her recent campaign for Italian design house Fornarina required at least a teensy bit of acting, especially in their TV commercial.
Article continues below advertisement
Apparently the Mean Girls star doesn't want to just stay on the pages of magazines as a model, as she says she's working on getting some acting gigs together.
"I'm talking to lots of people," she says. "One is Sean Penn – I spoke to him again the other day. We're trying to get Seth Rogen for this project, but Seth won't call us back. So call us back, Seth, if you're reading this!"
Aim high, little Lilo. Aim high.
Watch the commercial below:
<object width="425" height="344"><param name="movie" value="https://www.youtube.com/v/aqZmCOdn30U&hl=en&fs=1"></param><param name="allowFullScreen" value="true"></param><param name="allowscriptaccess" value="always"></param><embed src="https://www.youtube.com/v/aqZmCOdn30U&hl=en&fs=1" type="application/x-shockwave-flash" allowscriptaccess="always" allowfullscreen="true" width="425" height="344"></embed></object>