NEWS
Lindsay Lohan Opens Up: "I Do Want to Go Big!"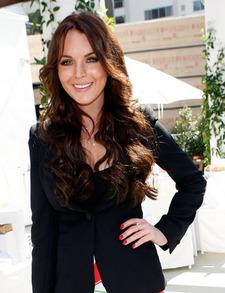 In a new interview with Extra, Lindsay Lohan talks candidly about getting herself together, reenergizing her career and even doles out advice for her younger sister, Ali, who will star in her own reality show. "I wish her the best of luck," she said, "to keep her head on straight and to stay away from the clubs."
As for Lindsay's own career, the red-headed actress is heading back to work on a new Jack Black film, which also stars none other than her Hollywood idol Ann-Margret "I'm part of a film that Jack Black is involved in that is starting around April, hopefully. We're getting the cast together now. I can't say too much. It's a comedy. Ann-Margret is a part of it," she continued. "One of my favorite movies is Kitten With a Whip. It's a great movie. I just really respect her."
Article continues below advertisement
Meanwhile, she opens up regarding the once publicized feud between she and Hollywood icon Jane Fonda, who criticized the starlet last year for not being a serious actress. "She's wonderful. I do have a good relationship with her. We speak on occasion. She's fantastic and she's great to work with as well. She's given me a lot of advice that's been very helpful," she said.
Finally, Lindsay talks about some new music she's working on now. The pop star will get hit maker Ne-Yo on the album and admits that "it's more of a dance vibe.This one I do want to tour with. I do want to go big with. I'm working under the label Motown."