NEWS
Lindsay Lohan Says She's Not Single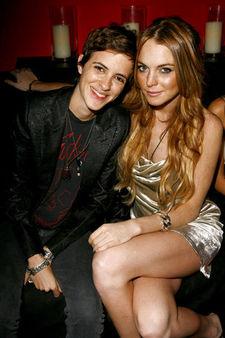 For several weeks, the romance rumor mill has been claiming that <a href="https://okmagazine.com/search/lohan" target="_blank"><strong>Lindsay Lohan</strong></a> and <a href="https://okmagazine.com/search/ronson" target="_blank"><strong>Samantha Ronson</strong></a> have gone their separate ways. But before all you hopeful suitors out there start lining up to knock on LiLo's door, she's got something to say about it.
Article continues below advertisement
"Those rumors aren't true" the scandal magnet told <a href="http://www.eonline.com/uberblog/b107329_lindsay_still_with_sam_we_arent_broken.html" target="_blank">E! News</a>. "We aren't broken up."
And while Linds wouldn't elaborate on exactly where her once-inseparable gal-pal Sam has been recently, E!'s sources claim that the pair just have higher priorities than partying together right now.
"They've been spending time with their families and working," they quote a source as saying about the couple. "It's normal and healthy to do that. That doesn't mean they broke up!"
MORE LINDSAY PICS:
<a href="http://www.okmagazine.com/pixandvids/gallery/9350/1" target="_blank"><img src="https://d-images.okmagazine.com/img/photos/large/24076.gif" width="74" height="100"/></a> <a href="http://www.okmagazine.com/pixandvids/gallery/9350/2" target="_blank"><img src="https://d-images.okmagazine.com/img/photos/large/24075.gif" width="74" height="100"/></a> <a href="http://www.okmagazine.com/pixandvids/gallery/9350/3" target="_blank"><img src="https://d-images.okmagazine.com/img/photos/large/24074.gif" width="74" height="100"/></a> <a href="http://www.okmagazine.com/pixandvids/gallery/9350/4" target="_blank"><img src="https://d-images.okmagazine.com/img/photos/large/24073.gif" width="74" height="100"/></a> <a href="http://www.okmagazine.com/pixandvids/gallery/9350/5" target="_blank"><img src="https://d-images.okmagazine.com/img/photos/large/24072.gif" width="74" height="100"/></a>
<a href="http://www.okmagazine.com/pixandvids/gallery/9350/" target="_blank"><img src="https://farm4.static.flickr.com/3437/3254188132_652633e374_o.jpg" width="427" height="70" alt="lohan2" /></a>