NEWS
Lindsay Lohan Sentenced to 30 Days in Jail; Says "Thank God"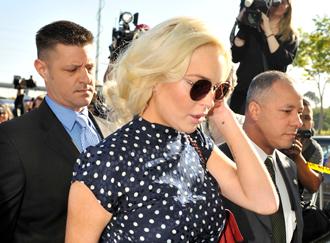 Lindsay Lohan is going back to the slammer. The 25-year-old starlet was found in violation of her probation Wednesday in L.A. by Judge Stephanie Sautner and was sentenced to serve 30 days in jail.
The judge clarified that house arrest would not be allowed under any circumstances.
OK! NEWS: LINDSAY LOHAN FIXES UP HER PEARLY WHITES BEFORE UPCOMING COURT DATE
Lindsay — who was dressed to impress in a conservative polka-dot vintage dress — admitted to violating her probation
Article continues below advertisement
So what does the sentence actually mean?
According to the L.A. County Sheriff's Department, LiLo will only have to serve about 20 percent of the 30 days, or 6 days behind bars.
She is ordered to surrender by Nov. 9 to being serving her time, Radar Online reports. She will have a progress hearing on December 14.
Lindsay seem relieved with the sentencing, mouthing "Thank God" before she left the courtroom.
Judge Sautner made it very clear that Lindsay is to follow a strict schedule to complete the rest of her probation.
Under the judge's sentence, Lindsay must complete 12 days at the morgue and four psychotherapy sessions by December 14.
OK! NEWS: LINDSAY LOHAN HAS A PLUMP POUT IN HER LATEST MUG SHOT
By January 17, another 12 days at morgue and four psychotherapy sessions should be under her belt.
Everything must be completed by March 29. If not, Lindsay will go straight to jail for 270 days.