NEWS
Lindsay Lohan Takes on West Hollywood in Tattered Threads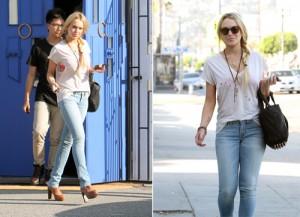 Lindsay Lohan makes sure she has time to shop in between all of her counseling sessions and doctor's visits. The recently "freed" actress shopped at Opening Ceremony boutique in West Hollywood on Sunday and from the looks of her torn up T-shirt, LiLo was in need of some new threads! Lindsay was joined by gal pal Eliat Anschel, who has become the 24-year-old socialite's frequent companion.
Eliat was also reportedly with Lindsay late Sunday night, when the actress was reportedly pulled over for running a stop sign.
Article continues below advertisement
Lindsay and a group of friends left the Chateau Marmont at around 1 a.m. Monday morning in her new Maserati.
The Machete actress was followed by photographers down Sunset Blvd to the Pacific Palisades where she reportedly pulled over.
MORE ON:
OK Galleries & Photos
Luckily the fresh out of rehab star was let off the hook with a warning!