NEWS
Lindsay Lohan Tells Media to Focus on "Homelessness Instead of Me"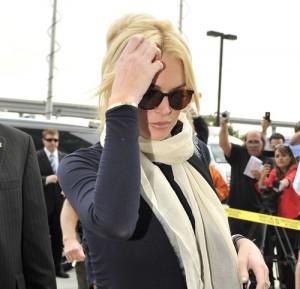 Lindsay Lohan certainly got lucky in court today, as she avoided jail time and was sentenced to 120 days of house arrest after pleading no contest to misdemeanor theft. The 24-year-old starlet is now moving forward and has released a statement about her hopes for the future.
"I am glad to be able to put this past me and move on with my life and my career," Lindsay said in a statement today, via TMZ. "I support the judge's decision and hold myself accountable for being in this situation."
Article continues below advertisement
"I have already started my community service at the Downtown Women's Center and thank everyone there for their warm welcome," she continued. "I hope to be able to fulfill my obligation without any press attention. I think the media spotlight should be on issues such as homelessness and domestic violence instead of on me."
Judge Stephanie Sautner ruled that LiLo will not have to undergo substance-abuse counseling or get additional time for the theft. Instead, she will be required to serve 120 days for her probation violation at home with an electronic monitoring device.
"Lindsay and I would both like to thank Judge Sautner and the L.A. City Attorney's Office for their fair handling of this case," Lindsay's lawyer, Shawn Chapman Holley said.
According to TMZ, the 120 days will more likely be cut down to 14 days. But still, for all of the 14 days Lindsay won't be allowed to leave her home, even for community service.