NEWS
Lindsay Lohan 'Today' Show Interview: 'I Want to Poke Fun at Myself' on 'Saturday Night Live'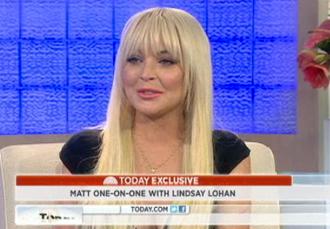 The Today show released more of Matt Lauer's interview with Lindsay Lohan this morning, in which she discussed her community service work at the morgue and upcoming hosting gig on Saturday Night Live. It sounds like she's given the green light to crack some jokes at her own expense.
OK! NEWS: LINDSAY LOHAN'S SATURDAY NIGHT LIVE PROMOS FEATURE "LINSANITY" JOKE
Lindsay said working at the morgue was a "humbling" experience, and she worked with genuinely nice, good people. "It's been a learning experience, and I'm glad that I experienced it," she told Matt on Today. "I'm grateful that I've learned from it. It's helped me.
Article continues below advertisement
"I want to move forward with my life, and I want to continue to move forward and in the right direction," she added. "I want to keep growing, and I want to keep growing in the right ways."
OK! NEWS: LINDSAY LOHAN DITCHES PARTYING & ADMITS SHE'S MORE OF A HOMEBODY
Lindsay is hosting Saturday Night Live for the fourth time this weekend and said she did ask her attorney what topics might be off-limits for the show. The actress has one final probation hearing left on March 29. "I spoke with my attorney and asked her — I don't want to be disrespectful to my judge or anything; she's been really wonderful to me and helped me a lot — so I asked if certain things would be inappropriate or off-limits, because I want to be in the clear. I was, like, 'I'm so close!'
"I want to poke fun at myself," Lindsay added.
Lindsay says she's learned to love herself and wants to focus on herself and work. When Matt asked Lindsay if there's someone in her life romantically right now, Lindsay said, "No. I don't want that. I really want to focus on my work right now; I really do. That's the first time ever in my life I've said that."
We certainly hope that Lindsay continues to move forward with her life in positive ways.