NEWS
Lindsay Lohan Tweets Hate At "Ex-Father"; Still in Denial Over Jail Sentence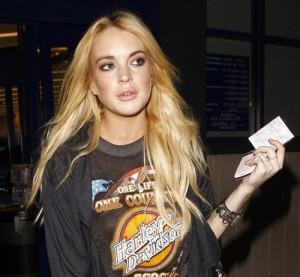 Looks like Lindsay Lohan is still in La-La Land when it comes to her jail sentence — which begins tomorrow, July 20. LiLo's new lawyer, Robert Shapiro, may be fueling some of the actress's denial, as he is still trying to get her off the hook and has not yet convinced the 24-year-old starlet that she must surrender to her jail sentence.
Shapiro — who is known for helping to get O.J. Simpson's acquitted of murder — was chosen by Lindsay because the actress wanted to pick someone who could help keep her out of jail, according to TMZ.
Article continues below advertisement
Sources close to Lindsay told TMZ she has been in obsessive denial over her surrender Tuesday.
Her 90-day sentence is expected to be cut down to only 22 days behind bars.
Lindsay, backed by her mom Dina Lohan, still feels there is a way or some loophole for her to escape the sentence; however, according to TMZ Shapiro made it clear from the beginning he would only represent the actress if she went to the slammer.
Lindsay hopes Shapiro will get Judge Marsha Revel to overlook her past misdemeanors and keep her out of jail; however, sources told TMZ the judge is not willing to back down.
LiLo has been lax in her Tweets since she entered a sober living house last week, except for her paid advertisements.
However, Sunday the actress took some time to once again slam her father, Michael Lohan, on Twitter.
Despite her daddy issues, Michael has been aggressively trying to get Lindsay out of jail as well.
Do you think she will get out of her sentence in the next 24 hours?