NEWS
Lindsay Lohan to Undergo Follow-up Interview After Car Accident & Scores New Movie Role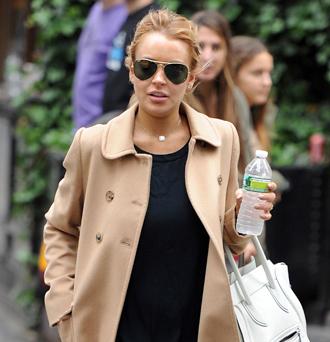 In the grand scheme of Lindsay Lohan's faux-pas with the law, the car accident she was a part of Friday — which totaled her Porsche — is one of the actress's more benign scuffles. She wasn't drinking and was coherent enough to return to the set of Liz & Dick after undergoing some minor tests at a hospital, which is a fairly mild altercation for Lindsay.
Article continues below advertisement
RadarOnline.com reported today cops plan on asking her a few follow-up questions in relation to the accident. Such questioning is pretty standard, and it could be ruled that Lindsay was at fault.
"Lindsay was in shock at the time, but nonetheless she cooperated," a source said of her first round of questioning. "Lindsay did everything that was asked of her, including submitting to a breathalyzer test which registered 0.00. The officers didn't have any reason to believe she was under the influence of any substances. Lindsay could be cited for speeding, and it will probably be determined that she was the sole reason for the traffic accident."
In brighter news, it appears Lindsay has scored another job! After she wraps Liz & Dick, she's already booked The Canyons, a new film written by author Bret Easton Ellis, of American Psycho fame. In true Ellis fashion, The Canyons is an urban flick about "youth, glamour, sex and Los Angeles, circa 2012."
OK! NEWS: LINDSAY LOHAN SPORTS A LEOPARD BATHING SUIT ON FIRST DAY OF SHOOTING LIZ AND DICK
Bret tweeted: Shooting THE CANYONS starring James Deen and Lindsay Lohan July 9-31 in L.A. Could not have dreamed of a better cast. Lindsay nailed it...."
Lindsay's co-star, James Deen, is a (wait for it) porn star.
Congrats, Lindsay!