NEWS
Lindsay Lohan's Grand Theft Necklace Case to be Penned by Jewelry Store Accuser?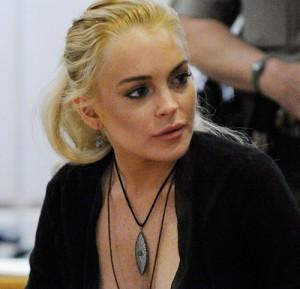 First the surveillance taped was leaked, then it was decided that the necklace would be auctioned for charity and now there will be a book written about he whole thing? Lindsay Lohan's thief accuser, Kamofie & Company jewelry company, is currently shopping around a book deal about their run-in with the 24-year-old starlet.
LiLo is currently facing a felony grand theft charges for allegedly stealing a $2,500 necklace from the Venice, Calif. store, and the owners want to write a book about it.
Article continues below advertisement
OK! GALLERY: LINDSAY LOHAN TRIES TO GRAB A RIDE AT JFK
A rep for Kamofie & Company confirms he has spoken contacted an agent about a possible book deal.
However, LiLo's tale isn't going to print just yet.
"We have no book deal pending," rep Christopher Spencer told CNN, via The Hollywood Reporter.
Spencer also clarified that he has "talked to a thousand people" while working for the jewelry store.
Lindsay will return to Judge Schwartz's courtroom on March 23 if she chooses to plead guilty or not contest to the grand theft charge, which through the parameters of the plea deal, will result in jail time.
If she does not accept the plea bargain, Lindsay is scheduled to appear back in court on April 22 at 9 a.m., where a preliminary hearing will be set in front of a new judge, Judge Stephanie Sautner.