NEWS
Lindsay Lohan's Love Life Heats Up Amid Family Feud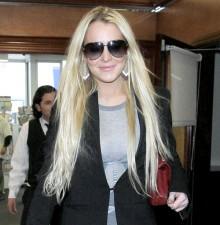 As the custody battle and constant feuding between her parents continues to boil, Lindsay Lohan's love life is also heating up. Lindsay and Gucci model Adam Senn have taken their romance to the next level. Linds brought her hunky new beau to meet her family at little sister Ali Lohan's 16th birthday party last Tuesday, the NY Daily News reports.
According to the Daily News, Dina and Michael Lohan went to court — the same day as Ali's party — in another child support battle where reportedly Dina is demanding $40,000 in child support, while Michael claimed Sunday that it's only $15,000.
Article continues below advertisement
Adam reportedly has the Lohan family stamp of approval, the Daily News reports.
"Dina really likes him," a source told the Daily News. "She thinks he is good for her."
Michael was not invited to his youngest daughter's soiree, but he also approves of Linds's new man.
"If he's a good guy and he has no addictions, and he's a good influence on her, then God bless him. It's a good thing," he told the Daily News Sunday.
Lindsay's former dadager said it is no shock he was left off the guest list.
"I'm not surprised I wasn't welcome at Ali's dinner," he said "In light of what's going on between Dina and I, and being so public with the things I've said in regards to Lindsay's well-being, I can understand how Lindsay and the kids would be upset and not want me there."
With her parents constantly feuding, the Daily News source said, "Adam is the one really positive thing going on in her life."
The source also claims that Lindsay and the former City star were texting and calling each other throughout the holiday weekend and are acting as more than friends.