NEWS
Lindsay Parties the Pain Away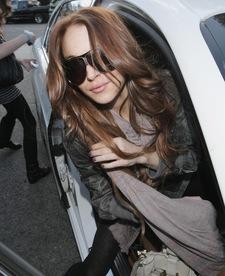 With Samantha Ronson busy spinning records at a DJ gig in San Francisco's Castro District on Friday night, her ex-girlfriend Lindsay Lohan used the opportunity to party until the wee hours.
In fact, La Lohan's night didn't even begin until around 1:45 a.m., when the scandal magnet finally made the scene at a birthday bash for producer/actor/well-to-do party boy James Krisel.
Lindsay was accompanied to the Hollywood Hills bash by five guys, including her longtime pal Patrick Aufdenkamp.
Article continues below advertisement
"People were pouring vodka into her red party cup all night," a guest tells OK! "She was way beyond incoherent. She was totally smashed and couldn't even form a sentence. She looked so lonely and lost." Lindsay stayed at the get-together until just before 3 a.m. and then moved on to her next pre-dawn party.
And it doesn't look like Sam and Lindsay will be anywhere near each other this entire weekend, as Ronson is spending Saturday night DJing at club mur.mur at the Borgata in Atlantic City, NJ.
Have a news tip or great photo you want to tell us about? Shoot us an e-mail: tips@okmagazine.com