NEWS
Lindsay Responds After Her Dad Releases Tearful Tapes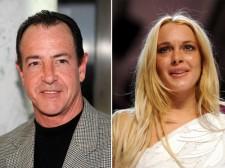 There are ways to reach out to your children when you think they need your help, and then there's the Michael Lohan way: After the over-sharing dad released recordings of his daughter Lindsay Lohan crying on the phone to him, Lilo is firing back at him for making her grief public. "My fathers such a loser & those recordings are from years ago," she Tweeted today.
"To release personal things is foul enough, but to edit them," she adds, suggesting that the recordings were pieced together inaccurately.
Article continues below advertisement
"I used to think that he needed the book for dummies on learning how to be a father. Haha-he's needs the book for dummies on HOW TO BE A MAN," she Tweets.
"Thank you to my fans for all of your support I luv you all so much! And I'm lucky to have great family & friends THAT ARE in my life & are Positive influences! So much going on in the world, let's focus on putting our energy into the RIGHT things :) ... Love you all."
Lindsay cries throughout the tapes, obtained by RadarOnline.com, sobbing, "Mommy says that I'm worse than you were. And she's defending…She doesn't back me…she doesn't stand by me."
Lindsay continues, "No one cares about me. They don't, by the way. It's about how they feel, not how I feel. It's not about me. It's never been about me, unless I fight for it."
Michael claims that his daughter is addicted to prescription drugs and he's trying to help her by reaching out through the media. Good luck with that one.