NEWS
Lindsay, Sam & Lily Allen Make Three?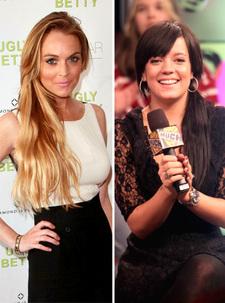 Is Lily Allen rapidly becoming the British Lindsay Lohan? If anything, the two have become partners in crime, hanging out at clubs and even getting matching "shhh" tattoos on their index fingers.
According to The Sun, Allen admits she has experimented with women, loves lapdances and likes nothing better than ogling scantily clad women in strip clubs.
"I signed my publishing deal at Stringfellows and had a private dance," the singer says. "One of the naked ones. And I went to Spearmint Rhino the other day--for six hours. I've had lapdances there. It's fun. I like having a chat with the strippers."
Article continues below advertisement
Allen has reportedly admitted to making out with lesbian twins on a couch in San Diego, Calif., last month. So given all this, it's no wonder she and Lindsay have gotten so chummy!
The pair, along with Linds' girlfriend Samantha Ronson, have discussed going away together, possibly to the Bahamas.
"They have been getting on really well and they're planning a summer escape, " a source tells the Sun. "They've discussed the Bahamas, and are also planning a trip to the Coachella Music Festival in April to see Amy Winehouse perform."
And it doesn't stop there. The two are also reportedly planning to collaborate together musically. "They've discussed making a record together, possibly at a pre-arranged studio, while they're away on holiday," the source adds."
Wonderful!