NEWS
Lindsay Still in Love with Sam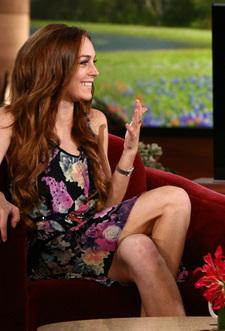 The recent breakup of Lindsay Lohan and Samantha Ronson has been one of the more publicly documented, with most of the drama unfolding either at parties — like the one where the Ronson family had LiLo barred from entering — or on each girl's Twitter pages. So it only makes sense that Linds has no problem opening up on the topic in a new interview with Ellen DeGeneres.
"I talk too much so I might have to stop myself," the too-candid 22-year-old tells Ellen on Thursday's broadcast.
Article continues below advertisement
On the show, Lindsay says that she was in the dark about the status of her relationship with Sam until it was too late.
But that whole night was just really tough and… it came out of nowhere and Samantha and I are friends. We're talking. "I had no idea what was going on," she reveals. "I just hadn't seen her in like a week. She like disappeared."
La Lohan even talks openly about the Ronson family's visit to the Beverly Hills Police Dept., where they inquired about taking out a restraining order on the actress. "It came out of nowhere," says Lindsay. "I've supported Sam's twin sister Charlotte and I've never done anything for people to assume I'm dangerous. "
But despite all these problems, Lindsay claims that she and Samantha are "friends," and that they are still on speaking terms with each other.
She even leaves the door open to a possible rekindling of their romance. "I really care about Samantha and we'll see what happens," confesses the actress. "Maybe when we're fully in the right place… and I love her."
Check out the full interview on Thursday's Ellen DeGeneres Show!