NEWS
Lindsay's Arrest Warrant Quashed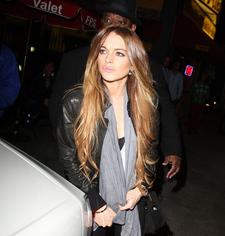 Scandal magnet Lindsay Lohan has a knack for getting express service from the California legal system. In 2007, she managed to only spend 84 minutes in jail after pleading guilty to DUI and cocaine possession charges. And then this morning, LiLo's lawyer was able to get her recent arrest warrant quashed in only a few seconds.
While Linds stayed away from today's hearing, choosing to hide out at girlfriend <a href="https://okmagazine.com/search/ronson" target="_blank"><strong>Samantha Ronson</strong></a>'s house, her lawyer Shawn Chapman Holley appeared before judge Marsha Revel in a Beverly Hills criminal court on Monday morning to show evidence that the I Know Who Killed Me actress had not actually violated her probation agreement for the aforementioned DUI charges.
Article continues below advertisement
Speaking from the bench, Revel stated that the reason the court had issued the warrant was because they received letter from one of her court-ordered programs showing that the tempetuous starlet was not being compliant with her probation.
"But I've just seen proof not shown to the program," the judge announced. "She has been in compliance."
Either Lindsay or her lawyer is due back in court on April 3 to show that the actress is playing by the rules.
"It was really much ado about nothing," Chapman Holley said after the hearing. "It was all a misunderstanding... The judge sees she's in compliance. She's satisfied all her conditions of probation and will continue to do so."
As for exactly what happened to spark this "misunderstanding," she explained, "Lindsay left one program to move to another. There were personality issues."
And, adds La Lohan's legal eagle, this ordeal hasn't been easy on the star. "It's difficult to be the subject of negative speculation, especially when she knew she's done everything right."
Article continues below advertisement
However, Revel issued this warning to Lindsay: "From now on, she's to show proof. It's up to her to show it, not for them to come get it... It's the court's understanding that she's about to enroll in a new program to become fully compliant. She's to notify the court right away so that this kind of thing doesn't happen again and so that things don't get out of control."
Yeah, best of luck with all that.