NEWS
Lindsay's Boyfriend Has Some Advice for Dina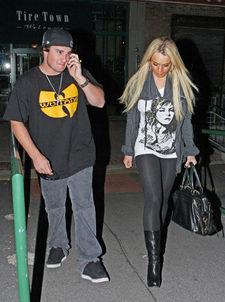 As usual, the best place to catch up the latest Lindsay Lohan news is through her boy-toy du jour Riley Giles' MySpace account. And the latest news from planet La Lohan involves mom Dina's planned reality show.
In a bulletin posted Monday, snowboarding stud Riley reveals — in typically oblique fashion — that he and Lindsay were asked to be part of the show, but has this to say:
"ADVICE OF THE WEEK: if your a mom, with 4 kids, the best thing u can do for them right now is have a reality show. WE. DO. NOT. WANT. she had the nerve to ask us to be on. no thanks!"
Article continues below advertisement
Youch.
Riley also seems to disclose plans of a holiday-time move to the Big Apple: "Our place in ny is getting decked out, cant wait to move.. should be mid-december."
It's not known whether that "our" means Riley and Lindsay or Riley and other potential roomies, but with rumors of engagement floating around, anything is possible.