NEWS
Lindsay's New Man: Freddy Kreuger!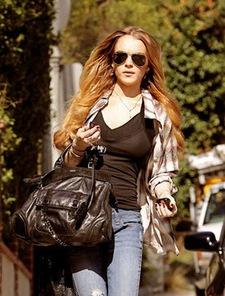 UPDATE: Despite the apparent confirmation on Lindsay's casting, reps for the actress and the studio are saying it just ain't so. Only time will tell who's telling the truth....
__________
If you're one of the very few people who had the misfortune of seeing some of Lindsay Lohan's recent films — I Know Who Killed Me and Chapter 28 to name two — you know she's familiar with horrifyingly bad material. So maybe that's why the actress is taking the next step and starring in a flick that's supposed to be scary.
Article continues below advertisement
According to a report on JustJared.com, LiLo has signed on to star opposite the man of her dreams, Freddy Kreuger, in the upcoming remake of '80s horror classic Nightmare on Elm Street.
The news was confirmed by producer Andrew Form, who told JustJared that Linds, "looked the final script over and loved it. She thought this was the perfect vehicle for her."
And the filmmakers, who are also behind the recent reboots of The Texas Chainsaw Massacre and the newly released Friday the 13th are happy to have the tempestuous starlet on board.
"I couldn't imagine having a better actress for the part," Forman admitted, adding that Lindsay was cast without even a single audition.
Perhaps they saw her work in Herbie Fully Loaded and screamed?