NEWS
Lisa Loeb is 40 — and Fabulous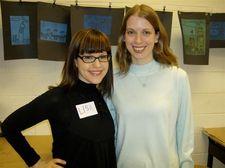 It's a big day for , who turns 40.
"Oh my gosh, I can't believe it," the singer-songwriter-reality star tells me. "On one hand it sounds really old, but I don't feel that old. It's a strange place to be."
To keep her youthful glow, Lisa says she wears sunscreen, sleeps as much as she can and stays happy. What else is in her wellness regime?
"I exercise very regularly," she says. "I walk and jog five or six days a week, and do strength training at least twice a week, plus other additional things here and there. I prioritize sleep over exercise, and I eat pretty well-balanced diet. Mostly vegetables, fish, whole milk products, whole grain products, and then I eat what I like, but usually leaning toward healthier choices. If I really feel like a doughnut, I eat a doughnut."
Article continues below advertisement
Favorite workout tune?
"'Good Times, Bad Times' by Led Zeppelin. You listen to it, and it makes you want to run."
Watch out for Lisa's second kids album, Camp Lisa, which will hit stores May 27.