NEWS
Lisa Loeb Solves Boy Troubles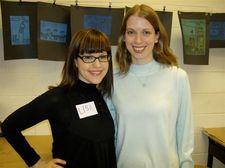 Lisa Loeb certainly knows the ups and downs of boy-girl relationships.
The Stay singer-songwriter starred in her own E! reality show #1 Single in 2006 after breaking up with longtime boyfriend Dweezil Zappa. OK! caught up with her when she took to Brooklyn's P.S. 24 for a songwriting clinic with the fourth-and-fifth grade girls through Manhattan New Music Project. She helped the girls write and perform a song about their boy troubles.
Article continues below advertisement
The result? A song called Just Like You, which tells the tale of boy bullies treating the youngsters like "trash."
"It went really well," Lisa, 39, tells me in the hallway. "I'm not used to writing a song so quickly, so writing an entire song in a day and also teaching young kids, which I don't usually do either. It was really rewarding. It was really great to hear their ideas and understand even better. As a songwriter, it was really important to hear how important values and themes can be expressed in song, which is something you forget about when you're writing as an adult."
The school day brought back memories of her own all-girls-school experience. "We wore uniforms, though," she says.
Onto more adult issues, would she recommend doing a reality show to find love?
"The reality show definitely was an advertisement for the fact that I am single," she tells me. "I do have a boyfriend now but he never saw the show. I don't know if directly influenced my relationship now, but it was definitely a good way to meet a lot of people. You've gotta put yourself out there, and that was definitely one way to do it."
Article continues below advertisement
Not one to name names, Lisa says her mystery man is perfect for her because they make each other laugh and order off a menu well together. They love to travel, eat out, and watch movies. "We just got back from Israel, and we took a tour of Israel, which was really amazing. I had never been there before."
Does she advise staying friends with an ex?
"Yes," she tells me. "One of my best friends is one of my exes. We know each other really well, and we went through a lot of important periods of our life together. Just like any other friend, we have a lot in common and have a lot of shared experiences. It's been important for us to stay friends."
Lisa's new release, The Purple Tape, hits stores Tuesday.