NEWS
Lisa Rinna Talks Plastic Surgery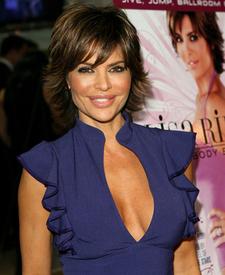 Actress Lisa Rinna's recent admission that she overdid plastic surgery has won her some new fans.
While stars rarely talk about going under the knife, Lisa publicly said she didn't like the look of the Juvederm filler she'd had put in her cheeks. Now she couldn't be happier about 'fessing up.
"My coming out and saying that I'd done too much in my cheeks — everybody came up to me and was really supportive and said, 'good for you for being honest.'" Lisa told OK! at the Dec. 9 DVD release party for her two new dance fitness DVDs: Dance Body Beautiful and Ballroom Learn and Burn.
Article continues below advertisement
"What happens is when you get older, you feel like you need it but you don't really need it," Lisa sighed. "What… was such a great moment for me, I saw a picture of myself, I didn't care for it, and I went, 'I don't need this. I don't need to do it. I'm okay with who I am.' "
"There's other ways to feel good about yourself without having to do those things. It was a really good lesson for me," Lisa said. One of the ways she stays young now is by dancing, an exercise regime she got hooked on after competing on Dancing with the Stars. Her new fitness DVDs, choreographed by her former DWTS partner Louis Van Amstel, show viewers how to follow simple dance training workouts.
"Everyone in this town does something to stay young looking, because we know we have to do that in order to work," said Lisa. "It's a catch 22—if you don't stay looking younger, you can't work as much. It's tricky and it's about finding a good balance.
"I think we're all looking for the fountain of youth. I think the most important thing is you can look like yourself and don't go crazy and cut yourself up," she told OK!.