NEWS
Listen to Charlie Sheen's New "Winning" Rap Auto-Tune Masterpiece!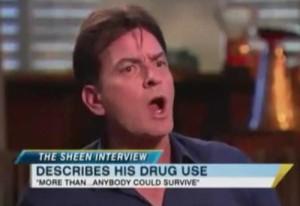 Charlie Sheen's media bender has produced some "winning" content for auto-tune artists. First the Gregory Brothers — YouTube sensations for their work on auto-tune the news — and now other Internet stars have followed suit. One of our new favorites is a parody auto-tune rap from the actor's now-infamous 20/20 interview.
Break.com has featured a auto-tuned rap video from Charlie's 20/20 interview where he dismissed claims that he was bi-polar and described himself as "bi-winning" and talked openly about his drug abuse, saying it was "more than...anybody could survive" and he was on "a drug called Charlie Sheen."
Article continues below advertisement
OK! NEWS: CHARLIE SHEEN RELEASING SHORT FILM OPERATION GREYHOUND THIS MONTH
Catch the song below. Do you like the rap version or the Gregory Brothers "Winning" remix better? Share your thoughts in the comments!
Charlie Sheen Funny Rap Song - Watch more Funny Videos