NEWS
'The Little Couple' Baby Update: "We're Working With the Surrogate"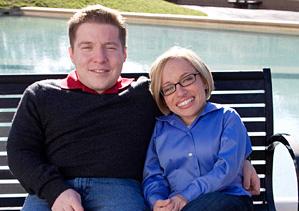 Jennifer Arnold and Bill Klein return to TV tonight with the TLC premiere of season four of The Little Couple. Jennifer and Bill have been trying to have a baby via surrogate. They're also finally moving into their Houston home!
OK! NEWS: JOSH DUGGAR SET TO BEAT FAMILY RECORD: "WE WANT 25 KIDS"
Jennifer and Bill chatted with E! News, updating fans on what they can expect to see on the new season.
Doctors were able to retrieve two of Jennifer's eggs for the surrogacy procedure.
Article continues below advertisement
"At this point, we're working with the surrogate to move that forward," Bill explains. "If it works, we'll have one or maybe two babies."
But the couple is also open to adoption.
"Adoption has always been a part of the plan," Jennifer says. "We're exploring both."
OK! NEWS: JOSH & ANNA DUGGAR EXPECTING ANOTHER
And they are also getting ready to move into their new home in Houston, which has been under construction for a year and a half.
Jennifer's parents are moving in with them and starting a pet-supply business with Bill.
"In terms of going into business and my parents moving in, as long as my mother and my husband get along, we'll be great," Jennifer says. "I think the reality is it is all going to work out. My mom just adores Bill, and Bill loves her."
But her parents aren't thrilled about being on The Little Couple.
"They may become cast members," Bill jokes. "We're going to have to work on getting them contracts. We'll have to get them paid or something."