NEWS
'Liz & Dick' Producer Says "We Had Serious Challenges" With Lindsay Lohan But Was Worth It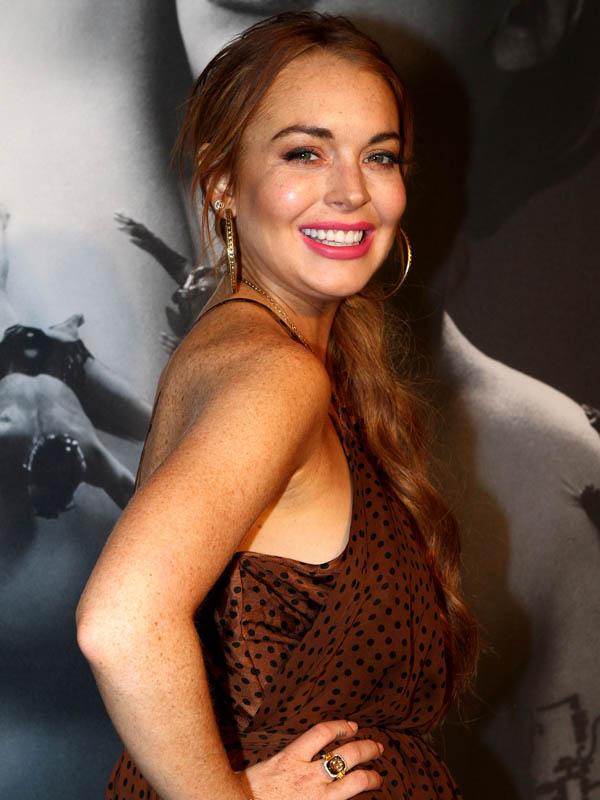 Between the frequent car accidents, not showing up for work, and being on constant probation, it's no secret that Lindsay Lohan is not easy to work with, but that didn't stop Larry Thompson — executive producer for Liz & Dick from taking a gamble on the troubled star.
OK! GALLERY: LINDSAY LOHAN, ANNA KENDRICK AND PARIS JACKSON HELP LAUNCH MR. PINK'S GINSENG DRINK IN L.A.
Lindsay transforms brilliantly into Elizabeth Taylor in the new Lifetime movie, but that didn't come without a lot of encouraging and nurturing on Larry's end and he spoke to Okmagazine.com to shed some light on why it was all worth it in the end.
Article continues below advertisement
"I'm not going to say that during the course of production there were not days that were more challenging than others, but I was sensitive to the fact that she was dealing with personal issues that required her attention and we tried to give her enough room to deal with that, but at the same time get the movie in the can and get it done."
OK! GALLERY: LINDSAY LOHAN FIRST DAY SHOOTING LIZ & DICK IN LEOPARD BATHING SUIT
Larry explained: "I certainly work with actresses whose behavior during production were less problematic than Lindsay, but I can say that she truly has been, was thought to be and I think the audience will now see the perfect person to play Elizabeth Taylor and that her performance is truly riveting. But you know, we did have challenges, that's for sure. We worked through them and we now have a great movie."
Article continues below advertisement
Given Lindsay's troubled background, there were a lot of risks involved with bringing her onto the project, but Larry told us how they dealt with the difficulties.
"When we finally decided to hire her, we had serious challenges to deal with, due to her probation and her history. Therefore we had to make a deal where there were pages and pages of 'What If" clauses. What if this happens? What if that happens?" he told Ok!.
OK! GALLERY: LINDSAY LOHAN SHOWS UP FOR FASHION WEEK IN NYC WITH MOM DINA
"There was never a what if she can act clause. It was about if there is a car accident. What if there is a violation of her probation. Where she would be incarnated. Through insurance and I will add she might be the most insured actress who ever walked on a sound stage, to the very things that happen, we tried to insure ourselves against things that could and in fact did happen, he continued.
Article continues below advertisement
The movie follows Elizabeth Taylor's great love affair with Richard Burton and Larry shares why working with Lindsay was so difficult but rewarding.
OK! GALLERY: LINDSAY LOHAN IS TANNED AND HAPPY WITH HER MOTHER DINA LOHAN AT JFK AIRPORT
"Producing a movie with Lindsay Lohan is not for the faint of heart. I turned 50 shades of white actually during the production. But you know, that happens on most productions. On this particularly one we did have a couple of incidents which forced us to readjust productions, but overall my gosh relativity to the performance we got and the movie we were able to make because of her, the risk was worth the reward, the pain was worth the pleasure, and the audience is going to benefit from the risk we took and the reward that was gained."