NEWS
Liz Hurley and Husband Get 'Desperate'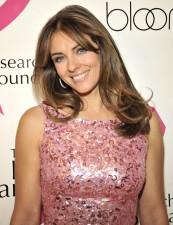 Considering Liz Hurley is British and her hubby Arun Nayar hails from India, it's surprising to hear they share an American passion: Desperate Housewives.
"It's the only show that me and my husband watch together," the actress, 44, tells me this week before the Estee Lauder Companies' Breast Cancer Research Awareness Lighting Ceremony held at Bloomingdale's in NYC. "In fact, it's the only show I watch. He'll fondly say 'there's another D.H. on,' and I'll say, 'oh, great.' Yeah, we like that. It's an American thing that we find attractive."
Article continues below advertisement
Her pop culture pleasures also include the books The Help and Pride and Prejudice.
"It's an English classic," she says.
As lovely Liz sits on a couch in a windowed suite beside breast cancer awareness pioneer Evelyn Lauder, she modestly hides her satisfaction when asked about her hubby, whom she wed in 2007, and her little guy, Damian, 7, whose dad is ex Steven Bing.
"I'm proud of my husband and my son – even though pride is one of the seven deadly sins," she tells me.
Why is breast cancer research important to Liz?
"Well, my grandmother died of breast cancer, and I've had three girlfriends under the age of 40 – all of whom were diagnosed, all of whom had mastectomies, and luckily all of whom lived – mostly because they were all detected early," she says.
Parting thought?
"Evelyn started the Pink Ribbon campaign in 1993," she says. "The world over knows that symbol now, and it's pretty much thanks to Evelyn."