NEWS
LL Cool J Molds His Children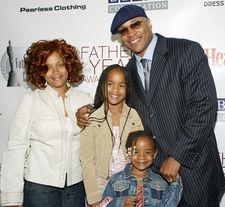 LL Cool J, who turns 40 today, loves being a dad to the four children he shares with wife of twelve years Simone.
"It's an opportunity to shape and mold a young mind," he tells me. "To turn them into a contributing member of society, and to create. You actually get to mold a human being into something that is great if you do the job right. So far, I think I'm okay."
Son Najee, 18, and daughters Italia, 17, Samaria, 12, and Nina, 7, will certainly gather 'round for a slice of birthday cake with dear ol' dad.
Article continues below advertisement