NEWS
Lohan & Lopez to Face Off on 'Lopez Tonight'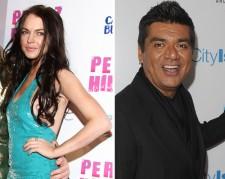 Looks like Lindsay Lohan and George Lopez will battle it out in person. The starlet accepted George's invitation to appear on Lopez Tonight after the duo engaged in a little Twitter feud. The Twitter battle seems to have come to an end. George Tweeted yesterday that Lindsay will be on his show.
Article continues below advertisement
Looks like the showdown will happen next Tuesday.
Lindsay lashed out at the comedian after he made a small joke about the mysterious white powder coming out of her high heels when she was captured in pics by paparazzi over the weekend.
"thanks for the childish comment regarding baby powder in my shoes to loosen up the leather* don't you have kids?" Lindsay Tweeted early Monday morning, adding, "U wouldn't wanna hear that about them, or would you? Act like a grown man, have some respect and dignity for yourself."