NEWS
Loni Works It Out: Drinking Up While Trying to Slim Down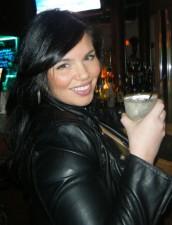 Here's the latest installment of Loni Works It Out, where OK!'s Beauty and Health Editor Loni Albert chronicles her trials and travails as she attempts to slim down like a superstar. Follow her on OKmagazine.com every week and on Twitter!
At my very first meeting with David Barton and Corey Coopersmith, they discussed the offensively high calories and metabolic conflicts that come along with drinking. (Nope, I dont mean soda or Hi-C. Im talking "liquid courage.") But lets be realistic for a sec. I'm a 20-something living and working in New York City. And as much as I am wholeheartedly committed to this plan, the chances of me never again having a sip — or a shot, or a bottle — of some sort of alcohol is pretty freaking slim.
Article continues below advertisement
I'm not a huge drinker by any means — and I'm not just saying this because my parents and my bosses are probably/definitely reading this. Aside from one slightly out-of-control party in college and one blurry night in Atlantic City that involved John Mayer and a lot of Red Bull and vodka, I wouldn't really consider myself a party girl. But to never have a glass of red wine with dinner? To pass up a cosmo on a girls' not out? My buzz is already killed.
So I boldly stated this to David, and asked how a few sips could really be so detrimental and he broke it down for me.
Apparently, alcohol itself has about 7 calories per ounce. Add that to the flavors, fruits, syrups and other stuff that go into your favorite libation and it becomes a very easy way to cancel out all of my hard work on the treadmill.
Also, the way that alcohol is absorbed, it throws off your metabolism and your body ends up only burning off the liquor and not fat (hence the inevitable beer belly or "Freshman 15").I have found two ways of coping with this that David and Corey are sort-of okay with. They are:
Article continues below advertisement
1. SWITCHING MY DRINK
I'm a typical girl when it comes to cocktails. I love sweet, fruity drinks. Anything with grenadine, lots of cut-up fruit and an umbrella and I'm in heaven. Ironically, some of the drinks on my favorite list have the highest caloric value! Shocking! Check out these approximate calorie counts for my favorite drinks. And keep in mind, this is for ONE drink. Never mind all of the sugar and carbs...
•Red Wine: 120 Calories
•Sangria: 173 Calories
•Malibu Bay Breeze: 409 Calories
•Pina Colada 644 (!!!!) Freakin' Calories
So now, when I do go out, I order a vodka with club soda and lime (about 90 calories). Aside from this having way less sugar and calories, it's WAY stronger, so it takes me a lot longer to finish. This leads to me not slurping it down in 30 seconds and feeling inclined to have a second, or third.
Article continues below advertisement
2. WORKOUT BEFORE DRINKING, NOT AFTER
According to David and Corey, your body needs to heal after drinking (you know how lovely you feel the morning after? There's a reason for that!) So don't think you can run a marathon after a night on the town to reverse the effects.
Instead, workout before you hit the bar to create a caloric deficit and to get your metabolism pumping. Also, avoid all urges to eat greasy food when you're hung-over. It will not cure it, you won't feel better, and the last thing your body needs after drinking is more complications that will be hard to metabolize! Trust me, I crave bacon egg and cheese on a hard roll like the rest of you. But in all honesty? Has it ever made your hangover magically vanish?
Long story short? I'm not about to stop living and I'm certainly not about to stop having fun! The goal here is to be as healthy as I can be so that I can enjoy life, not to feel deprived and depressed because I can't do what the other kids are doing, so there will be times when I indulge and throw back a few.
But the weirdest thing is that since I've been eating such cleaner foods, and working out so hard with Trainer Bill, I've been much feeling better overall which makes me not really need a cocktail-induced buzz when I hit the bar — I'm high on life, baby!
If you have any questions hit me up on Twitter @LoniWorksItOut and I'll answer anything — promise!