NEWS
Loni Works It Out: Strike A Pose!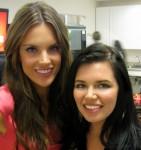 Here's the latest installment of Loni Works It Out, where OK!'s Beauty and Health Editor Loni Albert chronicles her trials and travails as she attempts to slim down like a superstar. Follow her on OKmagazine.com every week and on Twitter!
Need something to get you off your butt and in the gym? Hang out with the Victoria's Secret Angels. That'll have you motivated.
I had the pleasure of meeting these beauties at the Soho VS store, after they made an adorable, girly-glam appearance promoting the new Heavenly Flowers fragrance available for Mother's Day. Just as you'd suspect, they were stunning, radiant, with glowing skin, bombshell hair and legs longer than my whole body (I'm almost serious). They happened to also be incredibly sweet which makes it very hard to hate them. Not that I'm a hater at all (Ha!). Best of all, they weren't shy about spilling the secrets to their flawless physiques!
Article continues below advertisement
LONI WORKS IT OUT: FROM THE DESK OF LONI
Alessandra Ambrosio — I mean, even her name is sexy — said that she just got into pilates. The Brazilian babe also said it's hard to find time to work out since she's so busy with work and being a new mom to baby Anja. She also admits that she has a huge sweet tooth! "Chocolate fondue is my favorite thing in the world," she confessed.
Miranda Kerr, sweetheart to hottie Orlando Bloom, loves to do yoga (she's been doing it for about 10 years!) and cardio (running, biking, whatever she can do depending on where she is) but confessed that she mainly works out not for the esthetic appearance, but for how it makes her feel. "It's really good for your mind," she said."Keeps your head clear, and your thoughts sharp!" I agree!
MORE ON:
loni works it out
LONI WORKS IT OUT: PLAYING THE FIELD!
Candice Swanepoel boxes and does "resistance" training three or four times a week. Her fave indulgence? Breakfast. "I love a good breakfast. I love croissants. Eggs, bacon, omelets..."
Oh, we hear ya sister.
If you have any questions hit me up on Twitter @LoniWorksItOut and I'll answer anything — promise!