NEWS
Loni Works It Out: Surviving the Holidays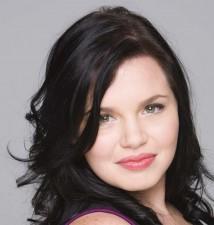 Welcome to the latest installment of "Loni Works It Out," where OK!'s Beauty and Health Editor Loni Albert chronicles her trials and travails as she attempts to slim down like a superstar. Follow her on OKmagazine.com every week and on Twitter!
Thanksgiving Day went better than expected! My fabulous nutritionist, Corey Coopersmith passed on some of his mom's most delicious, nutritious festive recipes (she just happens to be a healthy chef — the apple doesn't fall far from the tree, eh?). Loading up my plate with sides and desserts made with wholesome, organic ingredients made it that much easier to not overdo it.
Article continues below advertisement
Here's what I made:
Organic Spinach Dip
1-1/2 oz. package of organic frozen spinach, thawed and drained
2 cups of all-natural greek yogurt
1/4 cup of canola oil mayonnaise
1 package of organic vegetable soup mix
1 can sliced water chestnuts chopped
Mix together, cover and chill for an hour.
Organic, Gluten-Free Corn Bread Stuffing
1 loaf of corn bread cut into bite sized pieces
1 loaf of potato bread cut into bite sized pieces
1 cup of almond milk
3 large eggs beaten
1/2 tsp salt, pepper, garlic, celery seed, minced onion
Mix in large bowl, place in greased casserole dish and bake at 350 degrees for 30 minutes.
Organic, Gluten-Free Pumpkin Pie
1 cup agave
1/2 tsp ginger, allspice, nutmeg, ground cloves, salt
1-1/2 tsp cinnamon
2 eggs beaten
1-1/2 cups of pumpkin
1, 12-oz. can of evaporated milk
Pour into a gluten-free pie shell and bake at 425 degrees for 15 minutes, then turn down heat to 325 for 35 minutes.
Article continues below advertisement
It took lots of prep work, and my roomie and I spent all day Wednesday fighting the crowds at the grocery store but by creating my own healthy food I was able to enjoy the day with my family without feeling deprived, which for me is key.
A simple but great tip I learned from celebrity trainer Gunnar Petersen (he trains Jennifer Lopez, Kim Kardashian, and Penélope Cruz) while doing research for my "Stay Slim Through the Holidays" story was to take a stroll between courses. It's a great idea because aside from burning a few extra calories, it kept me away from the kitchen and the table where I'd have to fight the urge to nibble on a few extra side dishes or sip on some wine. Besides, my Aunt Theresa's cute and hyper dog Bella, needed to go for a walk!
MORE ON:
loni works it out
I refused to take home any leftovers. This way I was able to return to my plan of eating 5 meals a day, the very next day without my mom's Manicotti or Aunt Linda's rice pudding calling my name from the fridge.
I even decided to create a new T-giving tradition—hiking! I grabbed two of my best friends — Kimberley and Justin — and we road tripped it to Palisades Interstate Park in New Jersey for a 2 hour hike up a mountain. This was only my second time hiking and despite my attempts to be prepared, we still got lost. It started to get really dark and things started to get a little scary, but we survived and got an awesome workout! Next time we will be more prepared and head out earlier (which was really my fault, because I am perpetually late).
Article continues below advertisement
I am semi-excited to share that despite the turkey and all it's fixins, I have lost some weight and some inches, a little over 3 pounds and a total of 6 inches — including 2 from my waist. Ironically this has caused me a bit of distress since my favorite jeans are now looking baggy in all the wrong places, but my skinnier jeans (from college, when I ran 5 miles a day and didn't spend 12 hours at a desk) are still way too tight, so I have nothing to wear on the weekends.
This even led to my first very dramatic breakdown with tears, yelling and more — but I slapped myself back to sensibility. It doesn't do us any good to compare ourselves to where we once were. That was then and our bodies and lives change and grow. All we can do is plan where we want to be and how to get there. So instead of stressing about how my old, smaller jeans now create an unflattering muffin top effect, I will celebrate that I am headed in the right direction.
If you have any questions hit me up on Twitter @LoniWorksItOut and I'll answer anything — promise!