NEWS
'The Losers' Win Big On the Red Carpet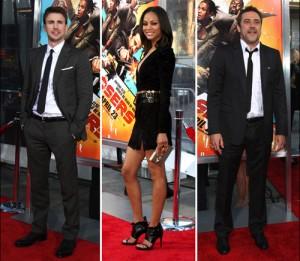 Who you callin a loser? Oh, these guys? Definitely! Chris Evans, Zoe Saldana and Jeffrey Dean Morgan looked like anything but non-winners on the red carpet for the premiere of their new movie, The Losers at Grauman's Chinese Theater on Tuesday night in L.A.
The movie is an action-packed flick about ex-CIA agents trying to get back at those assigned to kill them. Sounds exciting!
Oh, and by the way? Chris isn't just a hot movie star — he's a hot single movie star!
Article continues below advertisement