NEWS
Lost's Last Call: Ricardus Everlasting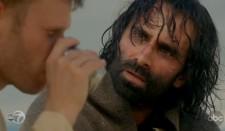 "Two players. Two sides. One is light, one is dark."
Those words — spoken by John Locke, as he explained the rules of Backgammon to Walt in the pilot episode of Lost — may be the only island concept we all still know to be true in this late stage of the game, halfway through the final season.
It's simple. And yet extraordinarily complex. Just like everything else on the show.
The writers have implied that Jacob and the Man In Black (MIB) are the two sides, the two players.
Article continues below advertisement
One identifies with a dark stone and one with light, just like the Backgammon pawns. Jacob wears light colors on the island, while MIB wears black. The ship that Jacob brings to the island is called the "Black Rock." Leading up to his murder, Dogen explained to Sayid that a man's soul has both light and dark sides.
LOST'S LAST CALL: LIVE TOGETHER DIE ALONE
And back when Jack discovered the "Adam and Eve" cave skeletons, he found a bag with two stones in it — one light and one dark. Historically, people who carry two stones like that believe in the stones' divination powers. The dark one means "yes" and the light one means "no." They're like an old-fashioned Magic 8-ball and go as far back as Biblical times. Paulo Coelho describes them in his book The Alchemist. Whenever his main character needs guidance, he pulls out one of the stones.
Which brings us to one question: Why were the Adam and Eve skeletons so indecisive?
But seriously, those stones will surely end up being related to Jacob and MIB. Something tells me we won't discover who those skeletons are until the finale (but hopefully I'll be proven wrong), because "Ab Aeterno" was one of those episodes that answered many lingering questions… but also introduced many more.
Article continues below advertisement
The Latin definition of "ab aeterno" is "from the beginning of time." As the Others' preferred language is Latin and they worship Jacob, we can assume that Jacob has been around for... well, maybe he's been there forever.
And in case the viewers needed a reminder of that, the first scene of "Ab Aeterno" was a flashback, revealing Jacob's Latin greeting to Ilana in the as-yet-to-be-identified hospital where she was recovering, mummy-style (an Egyptian reference?), from as-yet-to-be-identified injuries.
In the flashback, Jacob apologizes for not getting there sooner. He asks her if she will help him protect the six remaining candidates. Ilana agrees to help him even before she finds out what he wants her to do.
This episode could also be called "Playing catchup with Jack" because he asks an awful lot of questions and they are finally the right ones. Jack is all ears now, especially when it comes to anything Jacob-related — likely because Jacob told Hurley to tell Jack that he "has what it takes" and Jack is so hungry to prove that.
Article continues below advertisement
At the beach bonfire, Sun explains to Jack (and Hurley) that they are candidates to replace Jacob. And Ilana explains that Jacob told her "Ricardus" would know what to do next.
Ilana's question finally brings us the Lost backstory of the great and powerful Richard Alpert, who turns out to be not so great and powerful after all. This is also the first episode of the season that does not feature a Sideways story line.
LOST'S LAST CALL: THE OTHER SIDE OF THE MIRROR
Since he learned of Jacob's death a few episodes ago, Richard has basically been spooked. And on this episode, he proclaims his new belief: that Jacob is essentially a liar. But when he says that everything Jacob has ever said was a lie, it sounds strangely like he's describing the Man In Black, doesn't it? He's proven himself to be a liar and manipulator several times now.
Article continues below advertisement
Another part of Richard's "new" theory? They're all dead and in hell. Due to his frustration with Jacob, he tells everyone that he's going to "listen to someone else."
While Sun, Ben and the others explain to Jack who Richard means by "someone else" (MIB/Flocke), Hurley gets distracted by the ghost of Richard Alpert's long-dead Spanish wife. Of course, Jack asks Hurley what he's talking about with "Jacob" because he assumes he's the only dead person Hurley talks to… and probably also because Jack's mind currently looks something like this: "Jacob, Jacob, Jacob, Jacob, Jacob..."
After telling Jack to see his way out of the conversation, Hurley goes off to search for Richard in the jungle. He had run away, completely bug-eyed (something Nestor Carbonell does exceptionally well in this episode — it's almost his permanent expression). After Hurley's departure, Ben reveals that Richard really doesn't have any answers and he also… never ages.
Article continues below advertisement
And the ultimate audience voicebox, the unflappable Lapidus, asks, "Well, how the hell did that happen?"
It shouldn't come as a surprise to anyone, then, that Richard's backstory is set in 1867.
The first shot of Richard's backstory shows him riding a horse, reminiscent of the phrase, "You can bring a horse to water, but you can't make him drink." More on that later.
The 1867 version of Richard tries desperately to save his sick wife, Isabella, out on the Canary Islands. He tries to get a doctor to come to their house, even though they are peasants and she's basically a goner. When Richard tells Isabella (in Spanish, his native language) that he's going to get the doctor, she gives him her cross necklace. He takes it reluctantly. Just before he leaves, she tells him not to worry about her dying because if he closes his eyes, they can always be together.
When the doctor tells Richard that he doesn't have enough money for the medicine, Richard regretfully gives him the cross and says, "Now you have everything." The doctor calls the cross worthless and then the cross-less Richard (he always seems to get into trouble when he doesn't have that cross in his possession) accidentally kills the doctor. He runs home with the medicine but gets there too late. His wife dies and Richard gets arrested for killing the doctor. He's sentenced to Canary Islands death row.
Article continues below advertisement
Does Richard have the most miserable backstory of all the castaways? Yes. Yes, he does.
In prison, a priest comes to bring Richard food, but he says he's not hungry. The priest foreshadows that he might be hungry later. He asks to see Richard's Bible.
Did anyone take a look at what part Richard was reading when the priest took it from him? It was Luke 4:24, the section that comes directly after the story of Jesus being tempted by Satan.
Shortly after that reveal, the priest tells Richard that the devil awaits him in hell and he must do penance for committing murder.
Instead of being executed, Richard gets sold into slavery and chained up on the Black Rock because of his ability to speak English. Everyone pretty much knew this was coming, right? Richard told Jack a few episodes ago that he was once on the Black Rock.
Article continues below advertisement
What viewers also should have seen coming was the Black Rock crashing into the 30-story statue of Tawaret. You'd think that if Jacob brought a ship to the island, he'd make sure the ship didn't also demolish his home, save for one foot.
After the Black Rock hits the island and all the remaining passengers get killed by the officers or the Smoke Monster/MIB, Richard's cross strangely goes missing. Undoubtedly, his faith also goes missing at around the same time. Can you really blame him? He's shipwrecked, shackled with no means of escape and no food or water and he's threatened by boars and mysterious black smoke. Plus, the ghost of his dead wife shows up and tells him they're both dead and in hell together. Not an ideal situation.
The Smoke Monster/MIB, which sounds a lot like a growling dog or demon in this episode, comes and take a gander at Richard just before Isabella's ghost shows up… likely "downloading" Richard's knowledge so he'll know how to manipulate him later.
Can MIB disguise himself as corpses who have not landed on the island? Can Richard's possession of Isabella's cross be enough for MIB to take on her appearance?
Article continues below advertisement
Richard finally finds relief when a hand pats his near-unconscious back. He'd been trapped in the ship quite a while by then... maybe as long as 40 days.
His savior, MIB, places a heavy hand on him, scaring the beJesus out of him. MIB offers him water but Richard refuses. So he then forces him to drink it.
He forgets that you can't make a horse drink.
But then MIB basically forces his decisions on everyone he encounters. This is just one more example of it.
He confirms Richard's fear that he is in hell, and when Richard notices that MIB wasn't on the ship, he pauses… it's that same long pause we've seen Flocke make while gathering his thoughts on many occasions now. MIB sits back and says, "I was here long before your ship." He then convinces Richard that Jacob is the devil and that he's holding Richard's (dead) wife captive. And when Richard says he must save her, MIB says he'll free him because, after all, he "wants to be freed, too." Way to look out for No.1.
Article continues below advertisement
MIB says he has the keys to Richard's chains (likely because he smoked out the officer who held them) and will unlock them but only if Richard promises to help him. The desperate Richard agrees.
This whole scene is a bit like Ilana telling Jacob she'd help him when she's in the hospital. But Jacob doesn't hold anything over her head to get her to do that.
MIB then tells Richard he's going to need his strength to "kill the devil" and he feeds him boar out in the jungle. Notice how MIB doesn't eat or drink anything? All he does is hold his intended murder weapon.
While holding the sword, the same one that Dogen gives to Sayid later, he tells Richard the same things that Dogen tells Sayid: "You only have one chance. Do not hesitate, do not let him say a word. If he speaks, it will already be too late. He can be very persuasive."
Article continues below advertisement
Why do you think the speech is the same? Is it part of "the rules"?
In confusing MIB-speak, he tells Richard how Jacob betrayed him, took his body, his humanity, yada, yada, yada ... basically whatever he has to say to get Richard to do his bidding.
After professing that he knows that murder is wrong, Richard embarks on his quest anyway. And he meets a very different adversary than MIB.
This one doesn't force-feed him. Jacob baptizes him, presumably to knock some sense into him. And Jacob doesn't ask Richard to kill anyone. Instead, he starts offering some island wisdom over a bottle of wine, although Richard refuses to imbibe.
Finally, viewers get an explanation as to why Jacob brings people to the island. He holds up the bottle of wine and says: "Think of this wine as what you keep calling 'hell.' There are many other names for it, too: malevolence, evil, darkness. And here it is swirling around in the bottle, unable to get out. Because if it did, it would spread. The cork is this island and it's the only thing keeping the darkness where it belongs. That man who sent you to kill me believes that everyone is corruptible because it's in their very nature to sin. I bring people here to prove him wrong. And when they get here, their past doesn't matter."
Article continues below advertisement
Their past doesn't matter. This is crucial. MIB exploits people's pasts but Jacob sees them as a fresh slate. This is also the first time Jacob actually mentions the word "sin."
It's odd that Richard had to inform Jacob that if he doesn't at least offer some guidance to island castaways, they're much more vulnerable to MIB's manipulations. After hearing that, Jacob has an epiphany (seemingly) and asks Richard if he wants to be an intermediary for him.
When Richard realizes he should get paid for this "job" and Jacob says he can't bring his wife back nor absolve him of his sins, he says he'd like to live forever. It's an option of last resort. Jacob touches him, granting his "wish," and his touch is noticeably less menacing than MIB's. It's a pat on the shoulder, not a grab on the back.
This whole scene brings about a "new world" of questions. Maybe Jacob isn't protecting the island from the world but, rather, protecting the world from what's on the island?
Article continues below advertisement
Richard returns to the Man In Black, who gives him back his wife's missing cross necklace. And he says he's always there if Richard ever changes his mind.
This brings about even more questions. If MIB had the cross this whole time, does that mean he was basically taking Richard's faith in the world, in God, and capturing it in his big, scary, smoke-filled hands?
This episode's flashback story makes it seem inconceivable that Richard would still want to redeem MIB's offer. His frustration is palpable, thanks to the talented Nestor Carbonell, but after all he's seen on the island, wouldn't he know at this point that following the Man In Black couldn't lead to anything positive?
In a very Whoopi Goldberg moment, Hurley finds Richard and relays messages from Richard's dead wife — who seems very different than the frightened version we saw on the shipwrecked Black Rock.
Article continues below advertisement
As Lost mythology says, "Dead is dead." And in death, Isabella is at peace. This is something this show always does incredibly and poignantly well. Isabella tells Richard, in the same way she did back in 1867, that if he closes his eyes, she is still always with him.
Richard places her cross back on his neck, ostensibly regaining his faith in life (despite the fact that he's lived for nearly 200 years and his plight still seems never-ending).
What are we to think about Hurley telling Richard that they have to stop the Man In Black or they'll all go to hell? This seemed a bit preposterous to me. And maybe strange that Isabella would be saying that.
What are we to make of Jacob and MIB's wrap-up scene? When Jacob hands the wine bottle to MIB and tells him he can use it to "pass the time" (similar to what Locke said to Ben when he was locked up in the Swan station), MIB says he'll see him sooner than he thinks. This has become the Smoke Monster's catchphrase now. He smashes the bottle, and the wine soaks the dark rocks like blood.
Article continues below advertisement
This was an episode that took viewers so far only to leave them more perplexed than ever. But it was obviously a great, great episode for Nestor Carbonell. It's about time.
Anyone catch that Easter egg (if you can call it that) in the Black Rock? The little blue butterfly? Something tells me that's a great omen, a guide much more powerful than Adam and Eve's white and black divination stones combined.