NEWS
Lou Diamond Phillips Talks About Being King of the Jungle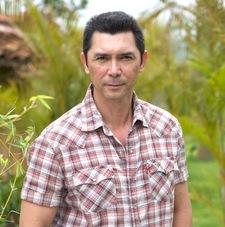 Actor Lou Diamond Phillips was "stunned" after being named King of the Jungle on last night's I'm a Celebrity… Get Me out of Here! finale, but the fancy title and the chunk of cash he'll take home to his charity were only a fraction of what made it "such a ridiculous honor."
"One of the real blessing and surprises of this whole experience was competing with people who not only have accomplished so much in their lives but are just amazing human beings," Lou told OK! earlier today on a telephone interview from a hotel in Costa Rica — a huge step up from the rain-drenched jungle he's been calling home. "I really consider them close friends now and I'm never gonna lose touch with them."
Article continues below advertisement
And while Phillips, the star of such films as La Bamba and Young Guns, is no stranger to getting a little black and blue on his film sets, being bitten by rats as part of a challenge on I'm a Celeb… was a little more than he bargained for.
"You can kind of read my resume on my body," he says. "I've broken bones and been bruised and beaten up before but that was a new one. I don't recommend it to anyone."
Phillips faced off against NBA star John Salley and former professional wrestler Torrie Wilson in last night's finale. And all three stars walked away with a deeper appreciation for life outside of jungle.
For her part, blonde beauty Torrie can't wait to get home: "I think the number-one thing I'm looking forward to is seeing my friends and family tonight... And my dogs." In fact, Torrie called her pooches as soon as filming wrapped and she got her hands on a cell phone.
Article continues below advertisement
Salley, on the other hand, is looking forward to getting back to work. He's launching a syndicated radio show in September, and his web site, JohnSalleyFoods.com, has been "blowing up" since the show started.
"My wife said, 'You better hurry up, I don't have anymore recipes,'" he says. Fortunately, Salley, whose strict vegan diet was put to the test by eating scorpions and intestinal milkshakes (resulting in a 21-pound weight loss) picked up some new recipes on set. "I said, 'I got 25 recipes. We're ready for the bean diet!'" he says, with a laugh.
As for the reigning King of the Jungle, Phillips can't wait to get back to "his girls," including wife Yvonne and one-year-old Indigo, in L.A.
"That was really the hardest part of this whole competition was being out of touch with them." Phillips says. "I really want to get back and reconnect and just listen to what's been going in their lives because they've been watching what's going on in mine."
Phillips says he's also looking forward to "trying to ease back into civilization. It's a bit of a culture shock." But it's a challenge his new pal is ready for: "I want to be back in!" Salley says.