NEWS
Lucky LeeLee...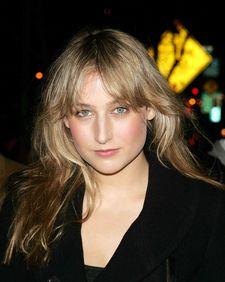 LeeLee Sobieski is 25-years-old and has already been nominated for an Emmy and a couple of Golden Globes. This summer she's the lucky lady in the summer flick "Public Enemies" with a gorgeous cast including Johnny Depp, Christian Bale, Channing Tatum and Billy Crudup. I caught up with Leelee last week while she was at the house her and her boyfriend, menswear designer Adam Kimmel, are renting for the summer. Here's what she had to say on her co-stars, fashion, obsessions and what she's working on now.
Article continues below advertisement
You're one of the few females in "Public Enemies" opposite Johnny Depp, Christian Bale, Channing Tatum and Billy Crudup, some of Hollywood's hottest men, were you ever intimidated?
I was more excited than intimidated. I've been respecting their work for years. They're not just handsome actors, but excellent in all regards. They commit to each role.
Who do you think is best looking between Johnny Depp, Christian Bale, Channing Tatum and Billy Crudup?
I think it's a breakfast, lunch or dinner thing, it's not comparable. They're all special in their own right. But ,I had crush on Johnny Depp when I was a little girl because "Crybaby" was my favorite movies when I was eight-years-old, but Christian Bale has such a formidable presence and he's a really excellent actor. I go for the dark haired thing, but Christian Bale is very mysterious. I think they're kind of tied. That's why "Public Enemies" will be the films that guys want to see and girlfriends and wives want to run along with them.
Article continues below advertisement
What was most memorable behind-the-scenes moment?
I would have to say being on the streets of Chicago totally recreated to be in the time period and the time period dress down to every single detail was really spectacular and fun, but I think watching the way Johnny Depp was so generous to his fans at the end of each day and singing autographs and being focused on his work was really incredible and really impressed me. He did it with such joy and he was so happy. He never acted like he was deserving of his glory, he always acted humble about it. I've never seen an attitude that was so healthy and generous and he's a person that keeps his life so normal with a private life.
I've read you collect locks of hair from your co-stars, do you still do this?
I stopped that when I was a little girl. It gets a little creepy when you get older, as you get older it becomes inappropriate. It was just funny and I still think its cool, but as you get older it becomes inappropriate.
Do you like dressing for period pieces?
Yeah, I loved it. I wear corsets sometimes in really life. I didn't wear a corset in this, but in real life I wear goofy weird things.
Article continues below advertisement
What is your favorite era of fashion?
I wish that people now were more inventive with their fashion. I don't understand why people only stay within their era. We have so much possibility now to have fantasy within our dress, especially when we spend so much time dressing. We spend so much time planning what T-shirt to put with what jeans and we could wear such unique things. If you're not going to put the time into it, wear pajamas, and if you are going to put the time into it, I wish for myself, I don't understand why we don't have more fantasy in our lives that way.
Who are your favorite designers?
I like Adam Kimmel, who's a menswear designer. I love Vivienne Westwood, I don't know who doesn't, and I loved her for years and years. Sometimes the old, classic fashion houses are great. I think Galliano never disappoints, he's always impressive and inventive.
The film is based on Bryan Burrough's book "Public Enemies: America's Greatest Crime Wave and the Birth of the FBI, 1933-34,?did you read it before filming?
Article continues below advertisement
No, I did not. Well, I read excerpts of the book, just not the whole book. My character was informed about some things and not others, so LeeLee was much more informed about some things than my character and sometimes I wanted a different type of knowledge. I find out if you know what happens, something your character doesn't know, it's a bit of knowledge that you don't normally have. To know something that your character wouldn't, isn't always necessary.
What's your summer beach read?
I'm actually reading "Atlas Shrugged" by Ayn Rand. It's kind of culty, I hide it when I'm reading it, but I have so many friends that love it so much and I read "Fountainhead" and it was good. I think some people think you're evil if you read Ayn Rand but I'm really enjoying it. You're not the book you read.
What are your summer plans?
I'm going to go to France and visit my dad and do a bit of traveling and I'm in Malibu by the beach right now. I have a house my boyfriend (menswear designer Adam Kimmel) and I rented out here for another month on the water and it's so beautiful and I'm trying to surf. I got waves crashed in my face, but it was fun. I'm also writing a children's book so focusing on that this summer. I started writing a book with my best friend in LA, Azie, and we just started writing this book about two girls, Azie and Leelee, so I'm focused on completely that.
Article continues below advertisement
Who do you think is the most powerful woman in Hollywood?
Oprah.
What makes a powerful woman?
Determination and willingness and confidence to share her thoughts with those around her and I think one would like to think a powerful woman would like to do good, as well.
How often do you work out?
I'm going on these long walks on the beach and swimming in the ocean and I like little hikes, like Runyon Canyon in LA and I like spinning class but I rather be outside since I'm by the beach. I don't like it when men go to the gym, I want them to play sports and be sweaty outside playing soccer or football on a team and when I see a man make a perfect muscle at the gym, I'm turned off. If I'm ever dating someone, I'm dating Adam Kimmel then I can't see him or her in the gym. It freaks me out.
Are you dating anyone?
I'm dating Adam Kimmel.
What's your latest obsession?
Lately I've been obsessed with Scramble. It's a stupid application on facebook or your iphone. It's basically like boggle where you have to find words in a four by four square of letters and sometimes there are 100 possible words or 100 and you can get high scores. You have two minutes to type in as fast as you can, all of the words. It's a horrible time waster. It's my drug of the summer. You can play it on your iphone and then you can play the two-player version with your friends and compete online, but I really just play it by myself. Why am I not reading and then when I read, I want to play Scramble.
Article continues below advertisement
What are your essential beauty products?
I'm loyal to Clinique yellow cream and that's about it.
If you could have lunch with anyone living or dead, who would it be and why?
The problem is, sometimes people whose work you love, wouldn't be the best lunch companions, I love certain people's music or art or movies, but would they not necessarily discuss their thoughts with a woman because of their time. I never met my grandmother and I would love to meet her because she was a mysterious woman.
Best advice you've been given recently?
I think if you follow your heart, there is no wrong decision.
Upcoming projects?
I filmed a movie in Russia called "Mad Cow" that will come out in a year and then "The Last Film Festival" with Dennis Hopper and I did a film called "Finding Bliss" which is a comedy set in the porn world.