NEWS
Lucy Hale on Singing in New 'Cinderella' Movie: Music Was "My First Love"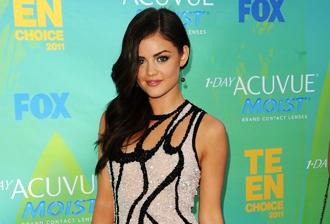 Pretty Little Liars star Lucy Hale has a new movie coming out this month on ABC Family, and the popular actress even sings in it! Lucy spoke to OK! last month about singing and the new season of Liars.
Her new film, A Cinderella Story: Once Upon A Song, airs Jan. 22, and OK! questioned whether singing is something she is going to pursue now. "I mean, it's always a possibility," Lucy said. "It's all about timing. It was my first love and I love music, so we'll see."
Article continues below advertisement
Lucy knows how wonderful the PLL fans are. "It's amazing. They're so loyal. I'm really excited that the show is going to start answering a lot of the questions people are wondering about."
Check out Pretty Little Liars tonight at 8 p.m. and A Cinderella Story: Once Upon A Song on Jan. 22 at 8 p.m.