NEWS
'Machete' Cast Make Their Mark on Hollywood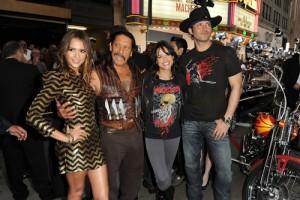 The cast of Machete hit Hollywood with a bang Wednesday night. Stars Jessica Alba, Danny Trejo and Michelle Rodriguez beamed with excitement for their new film at the screening in L.A. Director Robert Rodriguez also hit the carpet with his cast! Danny rolled in to the premiere on a lowrider bike — fitting for his role in the action film.
Cheech Marin, Jeff Fahey, Steven Seagal and Robert De Niro round out the supporting cast of the film.
Article continues below advertisement
Cash Warren let his leading lady Jess bask in the spotlight, not posing with her for pics on the red carpet.
However, the proud boyfriend did Tweet from the premiere!
"Machete premiere! @jessicaalba looks badass in a lowrider...I think she needs one."
Cash Tweeted the following pic of Jess next to the vintage car.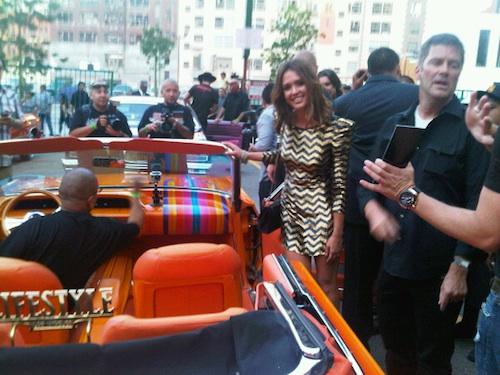 Cash is also a big fan of one of Jessica's co-stars, Tweeting, "Hands down, Danny trejo is coolest guy on the planet. No debate"
Lindsay Lohan was once attached to the project, before all of her legal woes.
Unfortunately, the 24-year-old actress didn't make her big red carpet debut last night at the premiere, like some had predicted she would.
In case you missed it, catch the trailer!