NEWS
'Mad Men' Season Five Premiere Recap: "Zou Bisou Bisou"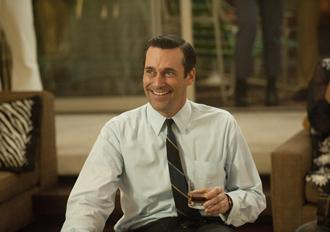 Season five of Mad Men premiered last night on AMC with a two-hour special, but memory of the show will certainly last longer than that. We don't know about you, but we'll be singing "Zou Bisou Bisou" in our heads all day!
The show returns with the Civil Rights Movement beginning to impact Sterling Cooper Draper Pryce. Their competitor Y&R gets in trouble for employees dropping paper bags filled with water on the heads of protestors outside their building. The boys decide to rub salt in their wounds by placing a Want Ad announcing they're an equal opportunity employer.
Article continues below advertisement
Don Draper (Jon Hamm) is back, but different. As Peggy explained, "Clients are right all of the sudden? I don't recognize that man. He's kind. He's patient." Don's now married to Megan Draper (Jessica Paré), his former secretary who has now been promoted to writing coupon copy under Peggy and enjoys occasional visits from his three children.
Megan decides to throw Don a surprise 40th birthday party even though Peggy Olson (Elisabeth Moss) warned her he wouldn't like it. "You've never seen me throw a party," Megan told Peggy. "Everyone is going to go home from this and they're going to have sex." Unfortunately, that was not the case for Megan and Don. Megan's "gift" to Don at the party was a sexy performance of Sophia Loren's "Zou Bisou Bisou" that had all the guys drooling — especially Harry Crane (Rich Sommer).
OK! GALLERY: MAD MEN CAST RINGS THE OPENING BELL AT THE NEW YOK STOCK EXCHANGE
On the bright side, Don and Roger seem to be closer with each other as they commiserate over how little they have in common with their young wives. Roger also married his former secretary, Jane (Peyton List), and the two are now arguing constantly. At the party, Roger asks her, "Why don't you sing like that?" Jane snaps back, "Why don't you look like him?"
Article continues below advertisement
Meanwhile, Roger Sterling (John Slattery) is competing with Pete Campbell (Vincent Kartheiser) at work over clients. He's snooping at Pete's schedule and making surprise appearances at his meetings. When Pete demands a larger office (aka Roger's office), Roger bribes Harry with cash to switch with Pete.
And while the office switch is a nice perk, Pete is unhappy at work and at home. He doesn't feel he's getting the respect he deserves, considering the big name clients he's bringing into the office. Pete now lives out in the suburbs with his wife Trudy Campbell (Alison Brie) and their baby, but it doesn't seem to be living up to his expectations. Trudy advises him, "Dissatisfaction is a symptom of ambition. It's the coal that fuels the fire."
OK! GALLERY: MAD MEN STARS CELEBRATE SEASON FIVE IN STYLE AT HOLLYWOOD PREMIERE
Peggy is also feeling unappreciated at work. Her pitch for Heinz Beans is turned down after a lot of hard work and long hours. She's forced to start over with no help from Don or his new wife. At Don's party, Peggy says, "I can't stay that long. I have to go back and redo the Heinz pitch. But I guess you knew that." Peggy later apologized for her comment telling Don, "I shouldn't be allowed to drink at work functions. Or at all."
Article continues below advertisement
Joan Harris (Christina Hendricks), on the other hand, is unhappy as a new mom. Her husband is still gone and even with her mother around she still feels lonely. Joan is itching to go back to work and makes a surprise visit with her new baby/Roger's secret child to the office to make sure she still has a job. The current secretaries aren't doing a good job and Lane Pryce (Jared Harris) assured Joan they want her back.
As for Lane, he finds a lost wallet in the backseat of a cab and falls in love with a photograph inside of a beautiful girl named Dolores. When he calls to return the wallet, Dolores answers and he flirts heavily with her on the phone. Unfortunately, the male owner of the wallet comes to office to collect it rather than Dolores much to Lane's disappointment.
In the end, Don and Megan make up with some very angry make up sex. But there are definitely some nice storylines already being set up for the season. And where is Betty (January Jones)? We sure hope we get to see her next week!