NEWS
Madge Wants a Country Home in the City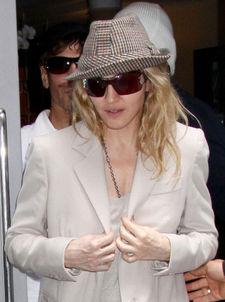 So what if she's moving back to the big city? Madonna still wants to feel like she's in the English countryside, a report from the UK says.
She's moving out of her Ashcombe estate in England but now she's having her architects recreate its country feel in her new Manhattan pad, apparently.
"It would have been easier if she had just asked Guy Ritchie if she could take everything from Ashcombe with her," a source tells the paper. "She had an amazing collection of Oriental carpets there, but she doesn't want any of them in her new townhouse. She thinks it's bad karma and instead has meticulously documented the estate room by room. She has ordered flunkies to go out and troll the Upper East Side boutiques for candelabras, side tables, and period chaises."
Article continues below advertisement
Madge is so set on being in the country that she doesn't want some super-modern place.
"But Madonna said if she wanted some hipster apartment she never would have bought this place on the staid Upper East Side."
What her Madgesety wants, her Madgesty gets!