NEWS
Madonna Directs & Dresses Herself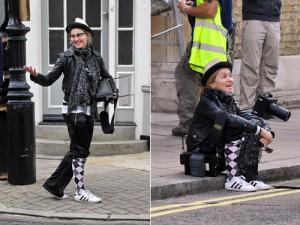 It's hard to believe that Madonna just launched a clothing line, considering the outfit she was sporting while direction her new film, W.E., on location in London yesterday. The material girl was wearing several black layers, a scarf, a fedora, high socks (with one exposed) with sneakers. We shouldn't be surprised, Madonna has been known for her transformations!
Article continues below advertisement
Madonna and her daughter's girls clothing line, Material Girl, launched in NYC last week with help from their model Taylor Momsem. Taylor shocked all her fans for showing up to the event in pants!
Of course, Madonna is showing how multi-talented she is by showing her incredible multi-tasking skills. She's working on W.E., which she is written and directed by the Queen of Pop. Of course, she's always playing the part of mom; Lourdes, Rocco, David and Mercy are always close by!