NEWS
Madonna Forgives Elton John For Decade Long Fued or Does She?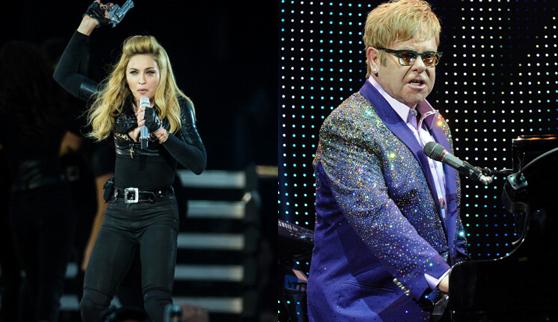 Two of the biggest names in music Sir Elton John and Madonna have been battling it out in the media for close to a decade now, but the "Queen of Pop" is ready to put it all behind her — well kinda.
OK! GALLERY: MADONNA SPOTTED OUT WITH HER BOYFRIEND BRAHIM ZAIBAT IN ROME
At a recent concert in Nice, France Madge performed a song in the British musician's honor. "I know he's a big fan of it. And I know he's a big fan of mine. And you know? I forgive him. Gotta start somewhere."
Article continues below advertisement
While it seems like a nice gesture, the song Madge dedicated to Elton was "Masterpiece."
OK! GALLERY: MADONNA GETS GLAM FOR THE WEINSTEIN COMPANY'S PREMIERE OF HER MOVIE W.E. IN NYC
So what's wrong with that? Well that was the very song that beat out Elton's Hello Hello from his animated film Gnomeo & Juliet, at the Golden Globes earlier this year, which didn't sit well with Elton and his partner David Furnish. The couple were angry "The Material Girl" won and David publicly criticized her acceptance speech saying it was "embarrassing in its narcissism." He also said, "Madonna winning best original song truly shows how these awards have nothing to do with merit."
Elton has no problems bashing Madonna to the press as well and has been doing so for years. He has called her a "fairground stripper" and said in an Australian interview that, "Her career's over, I can tell you that. Her tour's been a disaster."
Meanwhile, Madonna takes it all in stride and said after her Golden Globe win, "He's been known to get mad at me, so I don't know. He's brilliant, and I adore him, so he'll win another award. I don't feel bad."