NEWS
Madonna & Guy: More Trouble in Paradise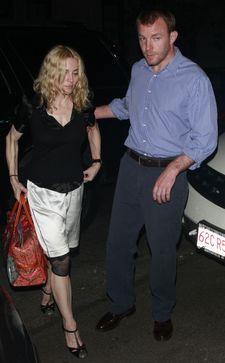 As rumors continue to whirpool around Madonna and Guy Ritchie's marriage, namely that they're headed for splitsville, the Material Girl has fired back in defense of her seven-year union, saying, "My husband and I are not getting a divorce. I have learned over the years not to take the accusations and false reports about me very seriously."
One of the most potent accusations is that Madonna has been having an affair with New York Yankee Alex Rodriguez. While her rep has confirmed that the two do know each other, Madonna insists that she and A-Rod are just friends.
Article continues below advertisement
Apparantly, that wasn't enough to convince A-Rod's wife, Cynthia Rodriguez,34, who on July 7, officially filed for divorce from her big-league husband of nearly six years, saying her marriage was "irretrievably broken" because of the baseball hero's "extramarital affairs and other marital misconduct."
Although she will not be named outright in divorce papers, Madonna,49, was apparently the last straw for the troubled couple.
"A-Rod's relationship with Madonna was the latest situation in a series of events that doomed their marriage," Cynthia's lawyer Maurice Kutner has said, referring to Alex's alleged indiscretions.
As for her role in A-Rod's divorce drama and his sudden interest in Kabbalah, the mother of Lourdes, 11, Rocco, 7, and David, 2, says, "I know Alex Rodriguez through Guy Oseary, who manages both of us. I brought my kids to a Yankees game. I am not romantically involved in any way with Alex Rodriguez. I have nothing to do with the state of his marriage or what spiritual path he may choose to study."
Article continues below advertisement
But a source close to the entertainer insists that the relationship may not be all that innocent.
"Madonna and Alex are having fun," the insider tells OK!. "She has 'sexy friends' in New York, London and Los Angeles — and all over the world. I think her marriage has been over for almost two years now. She's probably just not a one-man woman. The men in her life are adornments; her children are her real love."
For the entire story on Madonna and A-Rod's relationship, pick up the new OK!--on newsstands everywhere on Thursday!