NEWS
Madonna, Gwyneth Share Night Out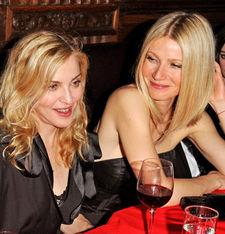 Gwyneth Paltrow is the belle of the ball during the Valentino: The Last Emperor premiere hosted by Quintessentially and Gilt Groupe held Tuesday at NYC's Museum of Modern Art.
But the real surprise is when Madonna turns up at the after-party held in the Oak Room at The Plaza Hotel. Anything for Gwyneth, the Material Mom would surely say as she saunters into the party.
"It was hectic getting ready," Gwyneth, 36, says. "We just flew in yesterday for this, and my kids are really jet-lagged. My son had a breakdown. But it was OK. We got out the door."
Article continues below advertisement
What does she love about the designer?
"He's from another time," the mother to Apple, 4, and Moses, 2, says. "He's one of the last -- it's maybe him and Karl Lagerfeld. They're from a whole other? era where things were made completely differently. The approach is ?very different – the attention to detail, the perfection. He's a real? master. It was incredible to see. I had the pleasure of going to his couturier and watching him? work a couple of times. Those are memories that I will really ?treasure. It's amazing to see."
Here comes Anne Hathaway. What has Valentino taught her?
"The search for beauty in your life is a worthy endeavor," she says.
Selita Ebanks admits her style icon is Kate Moss.
"I love her because she's a genius," the Victoria's Secret model, who was once engaged to Nick Cannon, tells me. "She takes something that's glamorous and mixes and matches expensive, trendy and something that's out of the box. I think that she's fearless. I love her."
Article continues below advertisement
What's a life 'do' for Martha Stewart? "Be creative," she yuks.
Here comes Claire Danes gliding in arm-in-arm with fiancé Hugh Dancy, Oprah's BFF Gayle King, Lake Bell, Gwyneth's mom Blythe Danner, America's Next Top Model Jaslene Gonzalez, Hugh Jackman's wife Deborra-Lee Furness and Rachel Roy.
Agyness Deyn, donning a hooded dress, reveals her style inspiration.
"Whatever I wake up in the morning feeling," she tells me.
Padma Lakshmi praises Valentino. "He's just smart and sophisticated and Mediterranean," Padma tells me. "He knows how to make a woman look gorgeous from head to toe."
What's something Karolina Kurkova can't live without?
"My personal blend of oils," she says, adding that we can't buy it – yet. Hm, someone is dreaming of perfume deal …
What did Valentino think of the response to the film?
"I was very, very happy," he says.