NEWS
Madonna: Hard Worker or Scary Diva?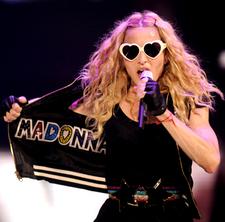 Madonna is a self-admitted control freak when it comes to work.  But now the singer's opening act on her Sticky & Sweet tour is revealing just how much of a stickler the Material Girl really is.
In a recent interview, Swedish singer Robyn said she received the following instructions before accompanying Madonna on tour. 
Robyn says she and her crew were told NOT to approach Madonna, NOT to speak to her and NOT to take pictures.
Article continues below advertisement
"I hadn't expected any glamour, but it's strange that they assume that the first thing you're gonna do is run after Madonna and ask for an autograph," Robyn says.
Robyn also went on to say that while she has never met Madonna, she would consider it her worst nightmare to become they type of star that Madonna is. 
Uh...we assume Robyn knows she'll probably never be asked to open a tour for Madge again, riiiight??